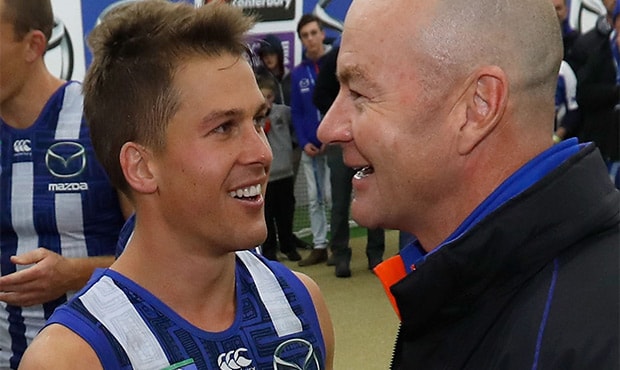 Darren Crocker has praised the brilliant career of three-time Syd Barker Medal winner Andrew Swallow.
"He lead by example exceptionally well, was a real professional with the way he went about his football and was always looking to get better," Crocker said on SEN.
"He was an elite tackler.
"I suppose [with] the evolution of our game and how prevalent tackling has become, he was one of the pioneers with that, but he also worked really hard on it too.
"It wasn't something he really took for granted but it was just a mindset thing.
"He really was a fantastic leader, a fantastic person around the football club."
While he still had another year remaining on his contract, Swallow decided it was the right time to call it a day with North's youngsters set to get plenty of opportunities in 2018.
"He (Swallow) felt the opportunities may have been limited, especially with where he sees his best football being played through the midfield," Crocker said.
"He arrived at the decision with those limited opportunities, potentially that it was the right time for him to bow out.
"He was looking to move on with the next phase of his life which AFL football wasn't a part of anymore, other than potentially a bit of part-time coaching."
Swallow's profound impact on the club and the game, his remarkable courage and leadership was widely recognised, not just within the club, but across the AFL.
"He was super with a lot of our younger guys in regards to educating them around tackling, the method to win the contested ball, stoppage work and bodywork around the stoppages," Crocker added.
"It's going to be really really sad to see him go away from this environment, but he goes with our best wishes and I'm sure he's not going to be a stranger to the place."