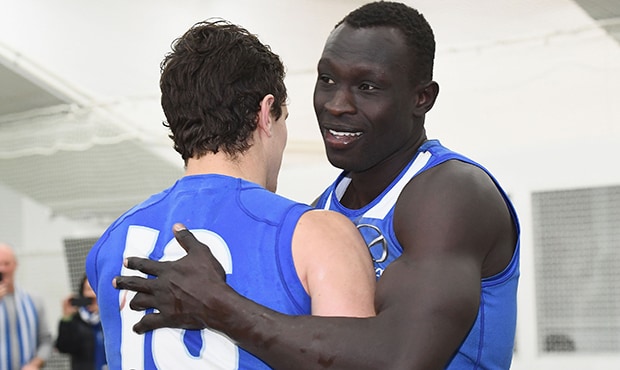 Majak Daw is hoping a change of numbers could turn his fortunes around next season with the forward/ruck swapping his well-established No.38 for No.1.
Still to do a full pre-season after eight years at Arden Street, Daw said the decision to trade jumpers wasn't an easy one.
"Maybe it's the change I need," Daw told NMFC.com.au.
"Changing my number was the last thing on my mind but I asked the club to give me a couple of days to think about it.
"I'll be on the other side of the locker room now, I'm excited about it."
The number 1 jumper returns...#NMFC pic.twitter.com/EKrab0YMIW

— North Melbourne (@NMFCOfficial) November 14, 2017
Regardless of what number he has on his back, Daw knows there's high expectations on him to perform, but he accepts the responsibility.
"There is pressure on me to start performing, being consistent, playing more games and having more of an impact, but that's not a bad thing," he said.
"A little bit of pressure can hopefully make me improve and compete with that ruck forward position with Goldy [Todd Goldstein] and Pruessy [Braydon Preuss]."
Last worn by Daniel Currie in 2015 and made famous by the likes of John Lewis, Les Foote, Kevin Dynon, Gary Cowton, Peter Keenan, Jose Romero and Hamish McIntosh, Daw acknowledged he has a lot to live up to in the No.1.
"A lot of key forwards and ruckmen have worn that number at North and I guess I really fit that mould," Daw said.
"Maybe I will feel a bit lighter in the number one," he joked.
Daw is expected to join main training in December after a post-season clean-out of his ankle.