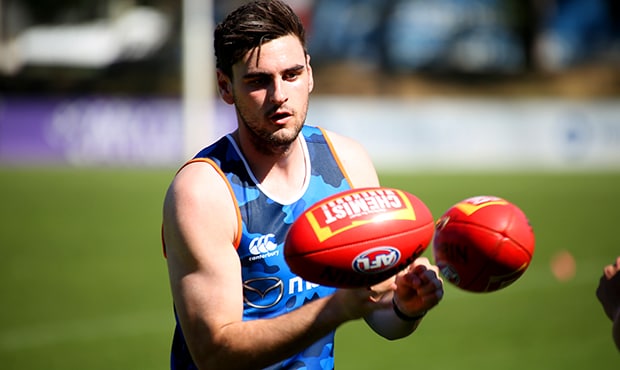 We already know North Melbourne will field a standalone VFL side next year, but what are the next steps as preparations get underway for the Roos' inaugural season?
NMFC.com.au will keep you up-to-date with all the latest news heading into 2018.
Here's some of the key information you need to know to get prepared.
Who is coaching the inaugural North Melbourne VFL side?
David Loader will be senior coach of the inaugural North VFL side. He will be assisted by AFL Development Coaches Gavin Brown and Ben Dyer and VFL Football Manager, Andrew Carson.
There will be four assistant coaches to assist the three AFL development coaches.
How many staff are required for the operation?
There will be approximately 30-40 staff working closely with the VFL side, consisting of full-time club employees, part-time staff and volunteers.
The roles include GPS game/training analysts, statisticians team, video analysts, dieticians, doctors, physiotherapists, trainers and masseurs and strength and conditioning staff.
What does the standalone VFL team mean for the club?
The standalone VFL team embeds the club with more playing depth and plays a significant part in the development of the squad.
The VFL training program will be modelled off the AFL program. The aim is to develop players to AFL standard and provide a high standard of competition for those players who are not selected at AFL level in any given week.
Having control over the players' workloads and focusing on areas of development are also major benefits to the club.
Suppporters and members will also have greater opportunity to see the club's emerging youngsters take their next game to the next level with several matches at Arden Street and the potential for AFL curtain-raisers.
What jumper will the players wear?
The players will wear North Melbourne guernseys, with the minor difference of VFL specific logos instead of AFL logos.
When does pre-season start?
Players will commence training at Arden Street on Wednesday November 15.
Pre-season will typically consist of three sessions per week, this may be reduced when workloads are high to assist with player load management.
There will be a short break over Christmas before training resumes in January.
How many players will be training at Arden Street from Wednesday?
There will potentially be 45-46 players training, with a final list of the best 24 to be lodged next March.
These players will be selected through analysis of various assessments in both training and match situations.
When is Round 1?
The first round of VFL will be from Friday, April 6 – Sunday, April 8 - this lines up with the third round of AFL games.
Where will North home games be played?
Arden Street Oval will host the majority of North's home games.
Will there be any curtain raisers?
The club is hopeful of confirming multiple VFL/AFL double-headers across the season. This will be announced upon the release of the fixture.
Which teams are in the competition?
The landscape of the VFL has slightly changed. North Ballarat Roosters are no longer in the competition, while Werribee will now field its own side after North opted to go it alone.
The 15 teams are:
Casey Demons, North Melbourne, Coburg, Essendon, Frankston, Sandringham, Collingwood, Port Melbourne, Williamstown, Footscray Bulldogs, Werribee, Richmond, Geelong, Box Hill Hawks and Northern Blues.