Round 1 is around 100 days away, and there's a real buzz in the air at Arden Street.
The uncomfortable conditions have done little to deter the Roos' young group, with every player having a point to prove this pre-season with so many spots up for grabs.
The main sessions each Wednesday are perhaps the toughest of the week, but also the one the players enjoy most.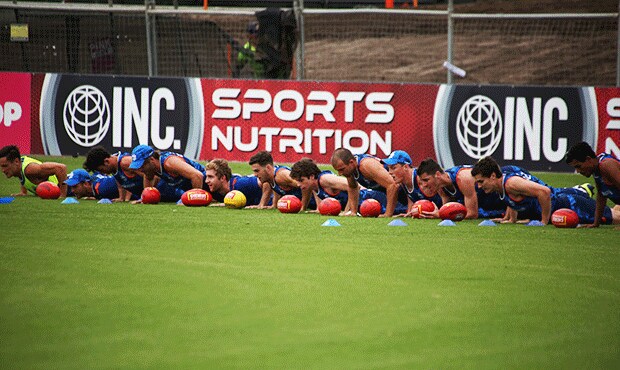 Players warm-up before main session.
Todd Goldstein is a standout performer, for a big man his pace and endurance is outstanding. During match simulation, he seems to be everywhere.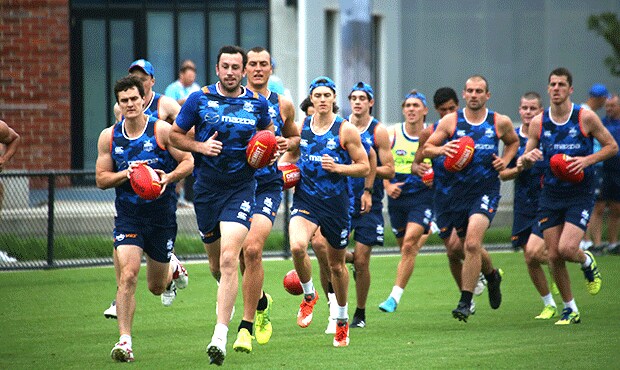 Goldstein leads the pack in the running component of today's training.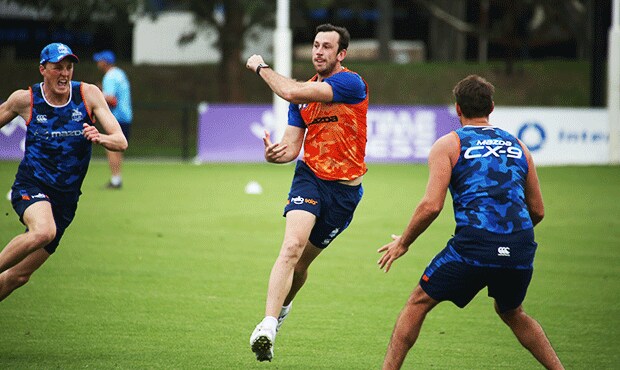 Goldstein splits two defenders with a booming handball.
Only 19, Jy Simpkin is electric. He seems to get into dangerous scoring positions frequently.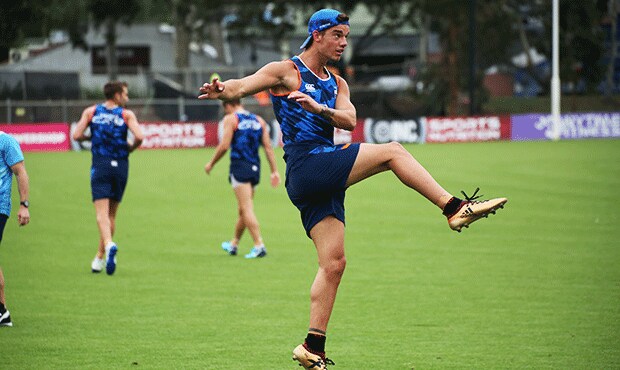 Simpkin kicking one his many goals of the day.
Mason Wood is back in action after a tough 2017; he looks fit and strong. There's a feeling around the club that this could be his season.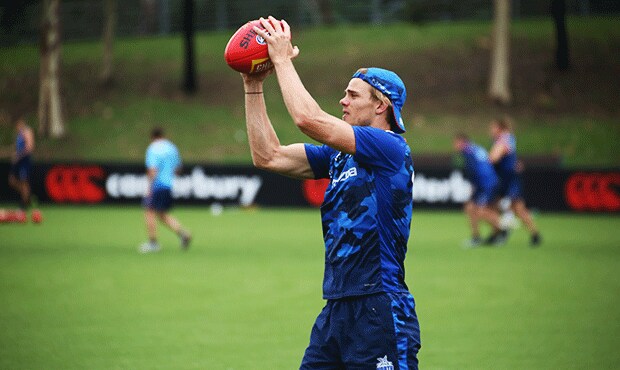 Mason Wood demonstrating his strong marking ability.
Now with the second youngest list in the competition, responsibility lies on the shoulders of the club's more experienced players to lead the way.
Shaun Higgins' presence is undeniable; he's the first to get to his younger teammates and give a pat on the back, and brings them in regularly to keep standards high.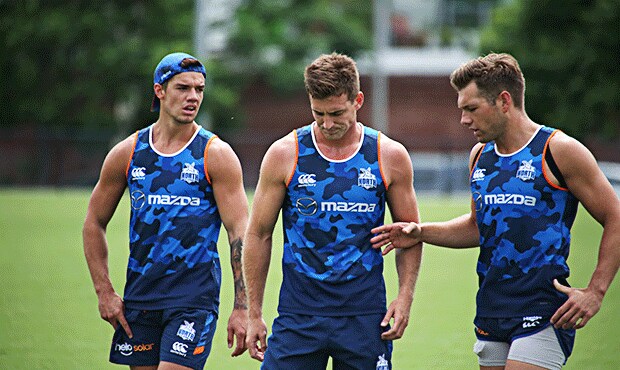 Shaun Higgins (right) talking with Jy Simpkin (left) and Shaun Atley (centre)
Jamie Macmillan and Scott Thompson stand out too, their leadership obvious to those watching on.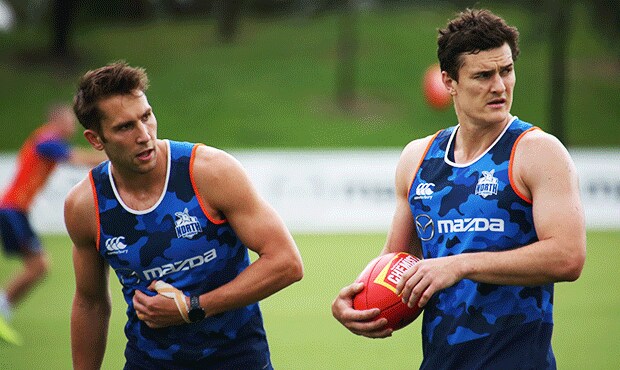 Jamie Macmillan (left) and Scott Thompson (right) keep an eye on proceedings.
Barely two weeks into their AFL careers, Will Walker and Luke Davies-Uniacke don't look out of place. The Roos' first two picks find plenty of the ball and look hungry to get into it.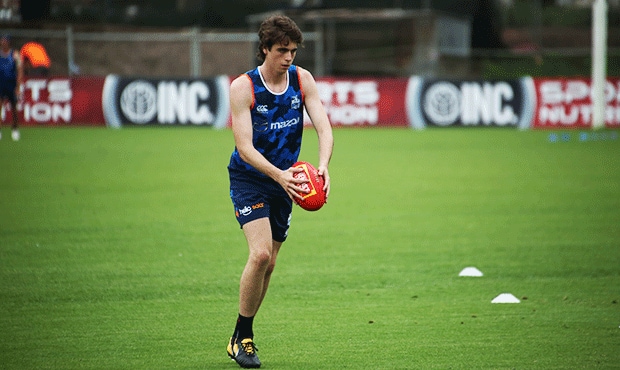 Will Walker focused on hitting his target.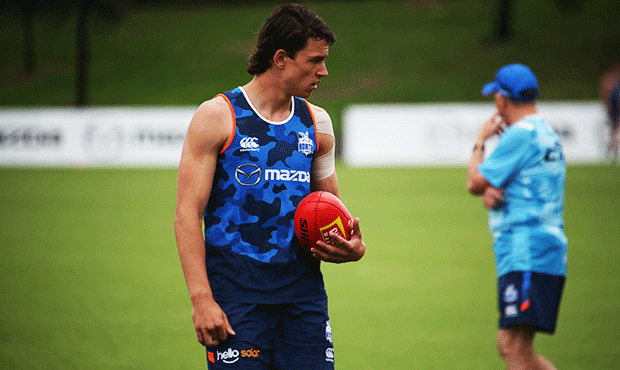 Luke Davies-Uniacke participating in this morning's session.
It's December, but there's no easing off. When the footy is there to be won, they all crack in.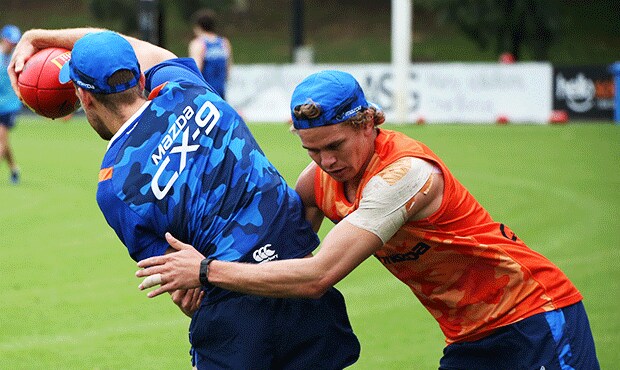 Jed Anderson (right) wraps Ed Vickers-Willis up in a strong tackle.
Unless of course you're opponent is Braydon Preuss.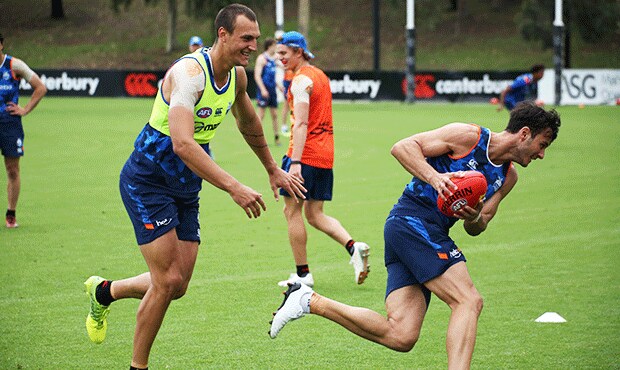 Braydon Preuss (left), can't match the speed and agility of Robbie Tarrant (right).
It's all about rest and recovery on Thursday, before the time trial on Friday morning.