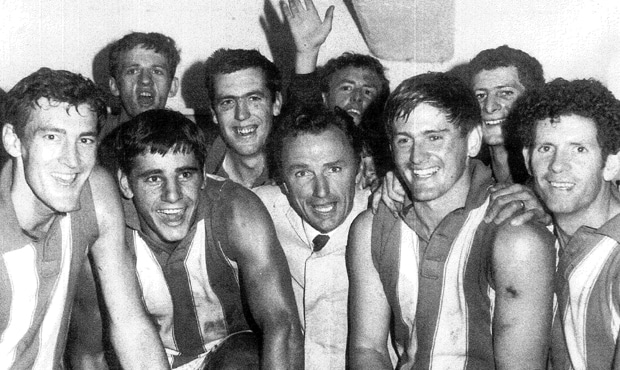 Former club champion and coach, Keith McKenzie passed away on Monday after a long battle with illness, at the age of 95.
McKenzie enjoyed a stellar career at North as a player, coach and administrator that spanned four decades, with his on and off involvement with Carlton comfortably taking him into a fifth.
While he ended his career as an assistant coach and general manager at Carlton, it was with North that McKenzie cut his teeth as both a player and as a coach.
Shinboner No.330, McKenzie made his debut for North in 1944, and played 130 games in the No.20 jumper.
McKenzie quickly established a reputation as a brilliant "wing wizard" with a mesmerizing left foot.
His stellar performances did not go unrecognised, as McKenzie won the 1947 Syd Barker Medal, and was selected to represent Victoria on no fewer than five occasions.
After his playing career ended, McKenzie transitioned into coaching, taking the reins of North's reserve grade team in 1965 and 1966.
In 1967, the ever-popular McKenzie was appointed as the coach of the firsts replacing Alan Killigrew.
By his own admission, his four-year stint at the helm did not reach the standards he had hoped for, as he stood down following a bottom-placed finish in 1970.
Whilst the ladder results may not have flattered McKenzie's abilities as a coach, there is no doubt his time at the helm would have a trickle-down effect on the clubs dominant period's in both the 70's and 90's.
With the team that he was building in the late 60's and early 70's, McKenzie laid the foundations for the successful '75 and '77 premiership teams, as he coached and mentored champions such as David Dench, Sam Kekovich and Barry Cable - all involved in at least one flag.
One of McKenzie's other impressionable charges was a young Denis Pagan, who would later lead the club to its two most recent flags in 1996 and 1999.
Playing career
North Melbourne - 1944-1951
Games - 130
Goals - 12
Syd Barker Medal - 1947
Coaching career
North Melbourne - 1966–1970
Wins - 23
Losses - 57
Draws - 2
The views in this article are those of the author and not necessarily those of the AFL or its clubs