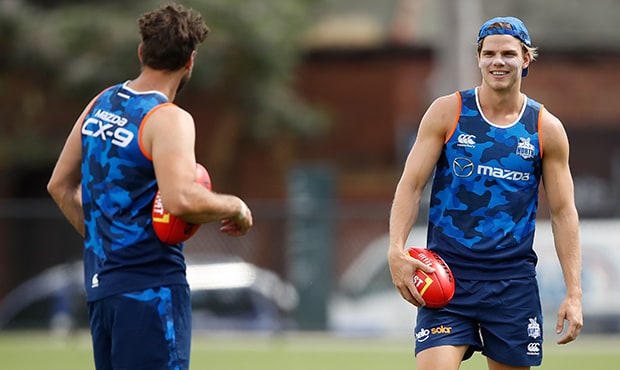 The maiden AFLX competition is just around the corner, and North's High Performance Manager Jona Segal believes the players and coaches are ready to take on the experimental game.
With North having trialled the format during their 2017 pre-season, Segal believes the club has a good idea of what to expect on February 16.
"We were fortunate enough to be approached by the AFL last year to trial the format in our pre-season, so it was something we had a little bit of exposure to and started to get our heads around 12 months ago," Segal told SEN.
"Having seen it unfold and play out, it produced some really interesting information and some really great feedback from the players."
Despite North's campaign starting earlier than it has in previous years, Segal is confident the players will be in a good physical position to compete.
"Anytime you do something different that is a new stimulus to your training program, there's always an element of risk associated with that, but the reward we think is far, far greater." Segal said.
"The game, from the numbers we saw last year from our GPS, is certainly very free-flowing,
"The guys are covering a fair bit of distance in a short amount of time, but because it's quite continuous you don't get massive bursts of high-sprint data because the ball is in play so often.
"Many of the attributes you'll see being shown in the game are things that guys are training quite heavily through the pre-season already."
With sides limited to just ten players on the field, it is important teams select players who can perform in all key areas of the game.
"Fundamentally, you're looking for a good mix of everything." Segal said.
"You want the good endurance, the good aerobic capacity, you want guys with high max velocities and the ability to express that repeatedly, and obviously guys that handle the footy well and make good decisions.
"Purely from a physical attribute perspective, Luke McDonald, Mason Wood, Jy Simpkin and these sort of guys that have got really big tanks and have the ability to hit good speeds, change direction really well, and are the type of guys you'll see as the quarter unfolds.
"The ball is in play for so much time, their ability to keep working up and back and down the ground is really important."
North will take on Essendon, Carlton, St Kilda, Melbourne and Hawthorn during a round-robin format at Etihad Stadium next month.
What is AFLX?
AFLX, a fast and exciting version of Australian Football, is to be played on a rectangular field and aims to showcase the unique and most thrilling aspects of the game to attract new fans.
The public will get their first chance to see AFLX in February 2018 when Adelaide, Melbourne and Sydney host individual tournaments featuring all 18 AFL Clubs.
The X in AFLX relates to the roman numeral character for the number ten which is a constant through the alternative version of the game.
The views in this article are those of the author and not necessarily those of the AFL or its clubs