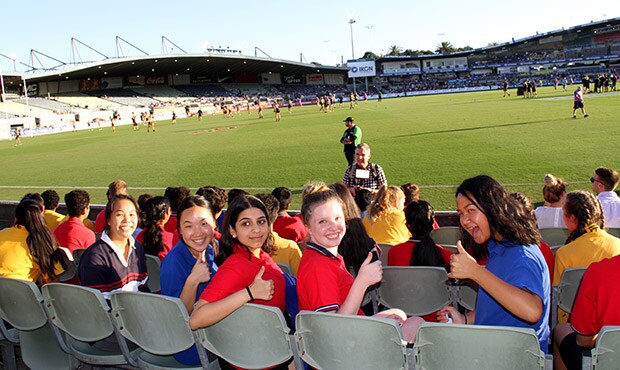 Over 35 students from culturally diverse backgrounds leaned forward in their seats to get as close as possible to the first bounce, as North Melbourne got ready to take on Richmond in the JLT Series.
Though Wednesday night footy is exciting, the main event for these kids was the 11th annual Unity Cup Launch, which kicked off with a pre-game function for students, teachers, and corporate sponsors in one of the boxes overlooking Ikon Park.
The Unity Cup began 11 years ago as an initiative between the AFL and the Australian Federal Police, in an aim to celebrate diversity of gender, culture, ethnicity, and race, through footy.
The Unity Cup brings together AFL 9's teams from diverse backgrounds across Victoria. Participants are aged 14 – 22 and are brand new to the sport.
The North Melbourne Football Club in conjunction with its award-winning not-for-profit, The Huddle, has been involved with the Unity Cup since 2012, and each year enters a male and female team.
This year the club will also assist in fielding two teams in Werribee.
"The Unity Cup celebrates so much of what we as a club stand for. The Unity Cup, as well as our club, aims to engage, support, and empower young people and uses sport to this end," North's GM of Community Engagement Cameron McLeod said.
Throughout the coming weeks, the teams will train and learn the game from North Melbourne and Huddle staff at Arden Street and in Werribee.
Besides the physical training, The Huddle's Youth Recruitment and Field Officer, Noura Hachem, is planning on leading a job readiness clinic for the participants.
All of this preparation will be leading up to the carnival event on April 8, where the participants will compete in the Unity Cup at JJ Holland Park in Kensington.
The views in this article are those of the author and not necessarily those of the AFL or its clubs