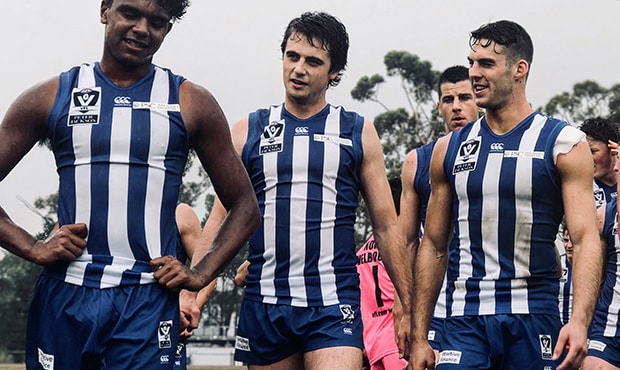 Match result
North Melbourne 12.12.84 defeated Northern Blues 12.9.81
In action
AFL-listed
Sam Durdin, Daniel Nielson, Alex Morgan, Ben McKay, Sam Wright, Mitch Hibberd, Oscar Junker, Will Walker, Josh Williams, Tristan Xerri, Mason Wood, Declan Mountford, Nick Larkey, Cameron Zurhaar, Braydon Preuss, Paul Ahern, Gordon Narrier, Tom Murphy
VFL-listed
Chris Jansen, Michael Close, Nick Rippon, Nash Holmes, Louis Cunningham
Story of the game
A resilient North Melbourne has recorded its first win as a standalone team, after a memorable fourth quarter surge against the Northern Blues at Avalon Airport Oval.
The Blues came out firing in the wet conditions, pressuring North's defensive line early. Despite trailing at every break the determined Roos banded together to kick eight of the last ten goals.
AFL-listed player Declan Mountford showed composure as he kicked a major in the dying minutes, resulting in the thrilling three-point win.
Sam Durdin and Sam Wright have pushed their case for AFL selection after their defensive efforts, showing steady hands and providing opportunity to push forward in the hard-fought contest.
The hard-running Paul Ahern offered poise and versatility across the centre of the ground, providing plenty of opportunities for his fellow teammates.
"We always knew they (the Blues) were going to challenge us and they did," coach David Loader told North Media.
"I thought we had a little bit of a shift in the game, three or four minutes to go before three-quarter time.
"We kicked a couple of late goals and it almost brought it back to striking distance for us.
"The message at three-quarter-time was along the lines of, 'keep turning up to the right spots and keep sticking to the method we want to play to'."
The win marked North's first of the season, after having a bye in Round 1.
Great win @NorthVFL! 🔵⚪️

— Ben Brown (@bdbrown50) April 15, 2018
Best of the AFL
Paul Ahern
Ahern flourished in his midfield role and looked comfortable on the ball, despite his extended stint on the sidelines with a knee injury.
The midfielder's ability to distribute the ball and give surrounding players first use on many occasions was invaluable. Ahern was a shining light in otherwise contrasting conditions.
Picked seventh in the 2014 National Draft and traded from the Giants in 2016, Ahern proved crucial in several attacking sequences. This was highlighted in the third term, where he set-up co-captain Michael Close twice in a matter of minutes.
"It was my first real game in two years ... it was unbelievable," Ahern said.
"My mindset going in was just to try and be clean.
"Obviously, the conditions were hard. I thought our midfield was good in patches, especially in that last quarter. We really stood up."
Braydon Preuss
The pre-season form of Braydon Preuss has carried over into the season proper, with the towering colossus asserting his dominance on the ruck exchanges for the second consecutive week.
Preuss compiled a number of key hit-outs, offering a link between North's roving midfielders and attacking options.
Despite alternating with Tristan Xerri, the 22-year-old provided polish and some much-needed aggression at every stoppage, winning a host of hit-outs against an in-form Andrew Phillips.
Best of the VFL
Michael Close
Captains are expected to lead by example and Close did exactly that.
The Brisbane Lions' recruit provided height and brought experience to North's forward structure.
Heavily relied upon early when the momentum was leaning towards the Blues, the co-captain established himself as an ever-present option when moving the ball forward, converting two goals from set shots.
"It was tough out there, it's important to win those ones that are hard and scrappy games," Close told North Media.
"We had the belief and we knew that if we came out and played the way we want to play, we'd get over the line.
"I suppose we drowned them in our enthusiasm in the end, we need this a little more from the start of the game."
Talking points
Wet conditions
It's difficult to adopt a fluid style of footy in wet conditions.
As rain continued to pour sideways at Avalon Airport Oval, both sides struggled to play an attractive brand of football with contested marks often leading to stoppages.
Self-belief
A pre-season spent mirroring the preparation of Brad Scott and the AFL side has allowed David Loader alongside the emerging VFL-listed players the opportunity to build a clear playing style.
This was evident in the final quarter and in the closing stages of the game. As the stakes increased with each passing minute, North was consistent with its attacking approach. The Roos were ultimately rewarded for their persistence with Mountford's match-winning goal.
Sing it loud! 🔵⚪️ #BeAShinboner pic.twitter.com/rnP34PElm7

— North Melbourne VFL (@NorthVFL) April 15, 2018