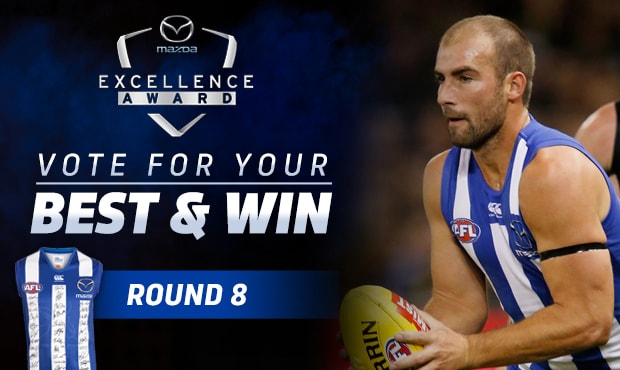 Simply by voting for North's top three players each week, you could win a North signed guernsey or tickets to the Syd Barker Medal.
Thanks to our major partner Mazda, the Mazda Excellence Award will again recognise the Roos' standouts in every game, with votes compiled to find one winner at the completion of the 2018 season.
Vote for your 3-2-1 after each round and you'll be in the running for the prizes.
Our overall winner will also present the trophy to the player who receives the Mazda Excellence Award at the 2018 Syd Barker Club Champion Dinner.
Who gets the nod? Register your votes via the form below and return every week during the 2018 season to make your opinion count, and you'll be in the running.
On a mobile or can't view the form below? CLICK HERE TO VOTE
Voting for this round closes on Monday May 14 at 5pm EST.
3. Jed Anderson
Jed Anderson continued his outstanding season with another stellar performance in the North Melbourne midfield.
Anderson has almost re-invented himself so far in 2018, and he set new benchmarks for himself during the tough loss to the Tigers, reaching career highs in disposals (28) and clearances (7).
4. Shaun Higgins
He may not have had the same influence in recent weeks, but Shaun Higgins was once again a top performer in midfield.
Higgins had 22 disposals and 8 inside-50s, and he kicked a classy goal in the fourth quarter that put the Roos in front for the first time.
5. Ben Jacobs
Ben Jacobs picked up arguably his biggest scalp as a tagger for 2018, keeping Brownlow Medallist Dustin Martin to just 16 disposals.
Jacobs was able to collect 15 disposals of his own, and also made 6 tackles.
10. Ben Cunnington
Ben Cunnington has been extremely consistent so far in 2018, but he took his game to another level against Richmond.
Cunnington went toe-to-toe with Richmond skipper Trent Cotchin, and he came out with a career-high 38 disposals, with an amazing 32 of these contested - a new AFL record.
34. Jamie Macmillan
Jamie Macmillan had his best game of the season against the Tigers, having 20 disposals at 90% efficiency, as well as 9 rebound-50s.
Macmillan also kicked a crucial goal at the end of the third quarter to bring North within a goal.
(function(t,e,s,n){var o,a,c;t.SMCX=t.SMCX||[],e.getElementById(n)||(o=e.getElementsByTagName(s),a=o[o.length-1],c=e.createElement(s),c.type="text/javascript",c.async=!0,c.id=n,c.src=["https:"===location.protocol?"https://":"http://","widget.surveymonkey.com/collect/website/js/tRaiETqnLgj758hTBazgdxhRImeM7Hzvr884M0dbfGVh89ln_2Fjg9C_2BYbyrHQ_2FcWf.js"].join(""),a.parentNode.insertBefore(c,a))})(window,document,"script","smcx-sdk");