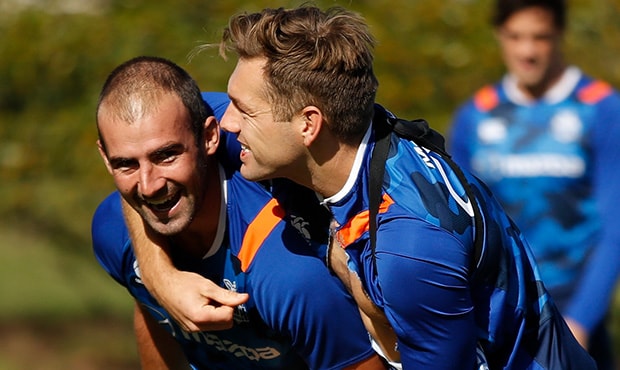 He's not the most vocal player on the field, nor is he the flashiest, but Ben Cunnington is considered by his peers as one of the best team players at Arden Street.
His no-frills, quiet and humble demeanor makes him popular in the North change rooms, and that's before the players even run through the banner.
"What you see is what you get with Cunners, he doesn't get too carried away with how he's going," Todd Goldstein told North Media.
"As long as he's able to go and have a fish he's pretty happy.
"He's a great bloke to have around the club and a lot of people don't get to see what he's like because he doesn't put himself out there, but he's definitely one of my favourite teammates over the past ten years."
Me trying to convince Ben Cunnington to do media this week ... and Fail. 😂😂😂
At least he's consistently uncompromising! pic.twitter.com/LKsCD3LyoK

— Heath O'Loughlin (@HeathOLoughlin) May 13, 2018
On the field, he continues to make his mark on the competition.
His performance on Sunday against Richmond drew praise from fans and commentators for his record-breaking contested possession count, 32, surpassing the number set by Geelong's Patrick Dangerfield and Sydney's Josh Kennedy.
In many's eyes, it was a breakout game, but for the North players, it didn't come as too much of a surprise.
"He's just really hard at it," Paul Ahern told North Media.
"He does his preparation during the week and it pays off during the game.
"He's super competitive, and he very rarely loses a hard-ball contest."
As well as his 38 disposals, Cunnington took six marks, four of which were contested.
"Not only is Cunners good at winning the ball on the ground, but he's great at winning the ball in the air too," Jamie Macmillan added.
"You can just back him in to win more contests than he'll lose.
"He's not one that searches for the individual accolades, and you can see that reflected in his football in terms of, he just wants to do the stuff that's going to put his teammates in better position and get the team across the line."
Goldstein, who arrived at Arden Street three years before Cunnington, finds comfort in knowing that a player with his ability and fight is at his feet each and every week.
"He gives you a lot of confidence, because even if you're not winning it, you're a good chance to half the contest," Goldstein said.
"He's one of the elite hard-ball players in the competition, and when he's at your feet, it fills you with a lot of confidence."
Turning 27-years-old in June, among a young group, Cunnington is now very much one of the more senior figures at North.
"He's a great role model for the younger guys given where he's come from," Macmillan said.
"A lot of people think he's always been a star, I'm not saying he wasn't, but he's worked really, really hard on different aspects of his game.
"To see him go through those tough times and come out the other side as one of the elite midfielders in the comp, I think he's just a great role model."
At 21, Ahern is learning plenty from North's number 10.
"I look to shape my contested game around his," Ahern said.
"The way he sets-up at stoppages and gets in good positions is something I admire.
"I review my game, compare it to Cunners', and take some good learnings from that."
The views in this article are those of the author and not necessarily those of the AFL or its clubs