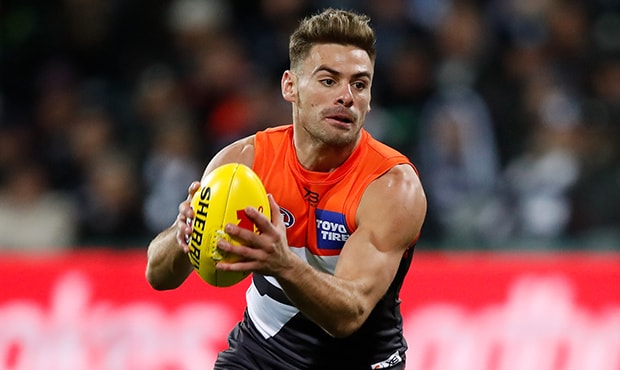 Sitting just two points outside the top eight after eight rounds, Greater Western Sydney has had a relatively slow start to the year given its lofty standards.
With four wins and a draw next to its name, GWS isn't a team to be taken likely, with its young and talented list capable of competing with the best in any situation.
The club has failed to secure a win over the past fortnight, so will be hungry to get its season back on track.
Classy midfield
Ever since it entered the competition back in 2012, GWS has always been renowned for its incredible midfield strength.
In 2018, its midfield could be as strong as ever, with the likes of Callan Ward, Stephen Coniglio and Ryan Griffen leading the charge in recent weeks.
Coniglio, who sits 12th in disposals per game and 11th in inside 50s per game, has had a red-hot start to the year and is a big reason for his side's success.
Callan Ward has been as impressive as his teammate, using his experience to have a strong presences at stoppages this season.
The 28-year-old averages 6.12 clearances per game, 11th overall in the competition, and is a solid ball-user, ranking 16th in total effective disposals.
With Josh Kelly on the sidelines, the Giants' engine room has managed to withstand the test thanks to grit and determination.
Backline clicking
Pre-season injuries to some of the Giants' premier defenders had many questioning how their back-line would adjust to the situation.
After eight rounds, the Giants' back six has had no issue standing tall.
It ranks second in rebound 50s per game, with just less than 42 per game.
Veteran defender Heath Shaw has been the leader of the troops in 2018, leading the side in that category, with an average of 6.88, which ranks him first in the competition.
The club's oldest player also leads the side in kicks per game and metres gained, proving to many why he is one of the game's best small defenders.
25-year-old Nick Haynes has been a strong key defender, leading the side in marks, with an average of seven per game.
Sidelined stars
Injuries are always hard to cover for, but when they are to some of your side's best players, it makes it much harder.
For GWS, it's a serious issue, and a reason as to why it is yet to meet the lofty expectations set by many.
On the sidelines include Josh Kelly (groin), Brett Deledio (hamstring), Tom Scully (ankle), Toby Greene (foot), Adam Kennedy (knee) and Zac Williams (achilles).
Big man Rory Lobb made his return from knee injury last weekend against the Eagles, while the likes of Josh Kelly and Toby Greene are chances to return for Saturday's match.
The absence of these stars forces the Giants to play younger, less experienced players, who are holding their own, but aren't quite at the level of their injured teammates.
The club will be hoping the injured men can get back into the side as quickly as possible.
The views in this article are those of the author and not necessarily those of the AFL or its clubs