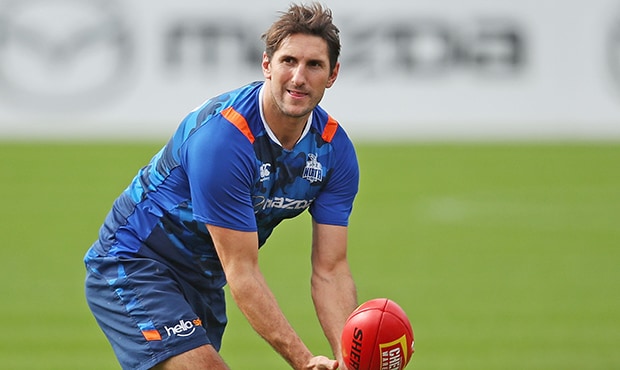 Jarrad Waite faces a race against time to prove his fitness for North Melbourne's clash against Greater Western Sydney in Hobart on Saturday.
Waite was injured in the final quarter of North's 10-point loss to Richmond when Tigers defender Alex Rance cannoned into his hip in a spoiling attempt.
Kangaroos coach Brad Scott told reporters on Wednesday that Waite had pulled up well since last Sunday's game but said a final call on his availability might be delayed until the morning of the GWS encounter.
"He'll have a very light session out on the track today and we'll just see how he responds tomorrow," Scott said.
"But I suspect we'll name him in our side and then give him right up until Saturday morning to prove his fitness.
"Waitey said to me at the time, 'It's just a cork, I'll be right.' But it was late in the game, he couldn't function at 100 per cent, so we just took him off.
"Just watching him this morning he's walking and jogging without a limp, so I think he'll be right."
Waite started Wednesday's training session by walking laps away from North's main group.
Meanwhile, Scott said he believed players were clear they could not touch umpires despite a spate of recent charges of intentional umpire contact, but called on the game's officiators to help reduce the risk of any future incidents by keeping their distance from players.
Following Geelong spearhead Tom Hawkins' one-week suspension for intentional umpire contact last week, Gold Coast co-captain Steven May and Carlton brothers Ed and Charlie Curnow were cleared of the same charge this week.
Scott pointed out May and the Curnows were not "let off" for these incidents. All three were fined $1000 after pleading guilty to the lesser charge of careless umpire contact, while the AFL announced on Thursday it was appealing the Tribunal decisions in the both of the Curnow cases.
"For people who are saying now it's OK to touch an umpire, well that's just not true," Scott said.
"I think there is a clear message – now, whether the message is strong enough, that's for everyone to debate – but they weren't let off, they were fined.
"If the AFL want to make a statement (by appealing) that it's never OK to touch an umpire, then that's completely up to them.
"I think (the issue) is twofold. I'd like to see the umpires try to keep their distance a little bit and for players to show respect to the umpire and restraint and stay out of their way as well."
Scott also had no concerns about Hawthorn counterpart Alastair Clarkson meeting AFL CEO Gillon McLachlan on Monday morning at a café to air his concerns about teams illegally blocking key forwards in marking contests.
The meeting followed Clarkson's comments after the Hawks' loss to Sydney last Friday night that the Swans defenders sometimes got away with "blue murder" in marking contests, while Sydney coach John Longmire subsequently labelled the Clarkson-McLachlan catch-up "unusual and unnecessary".
Scott noted the umpire's department had clearly communicated with North that marking infringements were the most difficult decisions to adjudicate, and the Roos coach said teams were prone to exploit any grey areas in the rules.
Scott predicted defenders would be watched closely this round after Clarkson had put illegal blocking on the agenda, but had no issues with the manner in which the Hawks coach aired his grievances.
"I think all people in football would like to talk to Alastair and if he wants to sit down and have a chat then I think everyone would be better for sitting down and listening to Clarko's views on things," he said.