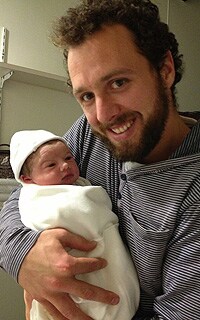 Scott McMahon
will head into his next game with more motivation following the birth of baby boy, Noah Jaye this week.
The defender was overjoyed by the safe arrival of his second child, a brother to older sister Jayda (2 years), and couldn't be more ecstatic to have a son.
"I'm happy, excited...everything that comes with having a new baby in the family," McMahon told
NMFC.com.au.
"I really wanted a boy, but in the end I was just happy with whatever came as long as they were healthy. Extra bonus having a boy but I would have been just as happy if it was a girl."
McMahon has had a challenging season since losing his spot in the senior side following an ankle injury in June, but the 27-year old says the new family member puts everything in perspective.
"Family is number one.  As long as the family is all healthy and happy that's the most important thing and I know it's the same for everyone. Life outside of the family has to come secondary really.
"If you have a tough day training, or you get some bad news, you come home and I always know Jayda's happy to see me.  She runs straight up to me and gives me a big hug.  It's going to be the exact same with two of them now."
After Noah's birth on Tuesday, McMahon was back at training within 48-hours and the defender has praised North for being so supportive.
"The club has been really good. I only went in there for a few hours, did what I had to do and then went back to the hospital," McMahon said.
"In the last two or three years there's been about seven or eight kids born at North.  It is really good and it helps we all have kids around the same age, especially when we're at the club they can all play together. "
McMahon will take his wife Desiree and Noah home on Sunday before drive straight to Werribee to play in the VFL.
"Obviously you always want to play well because if you play, well it's only going to help your family in the long run."
McMahon's Tiger team-mates won't need any extra motivation against Port Melbourne with several on the cusp of senior selection.
Daniel Currie, Kieran Harper, Jordan Gysberts, Will Sierakowski, Tim McGenniss, Ayden Kennedy and Michael Firrito have all been close to getting the nod for Kangaroos in recent weeks.
Majak Daw is another of those, and will line up in his 50th game for Werribee while Levi Greenwood will travel to his home state as an emergency for North's match against Adelaide .
At North Ballarat, Liam Anthony, Ben Mabon, Max Warren, Mitch Wilkins and Cameron Richardson will represent the Kangaroos as talented youngster
Taylor Garner makes his AFL debut
against the Crows.
International rookie Eric Wallace will play in the North Ballarat reserves but is edging closer to the VFL ones after being named in the senior squad of 25 this week.
Werribee (6th) v Port Melbourne (5th)
Sunday, 2.00pm, Avalon Airport Oval

North Ballarat (10th) v Collingwood (7th)
Sunday, 2.00pm, Eureka Stadium