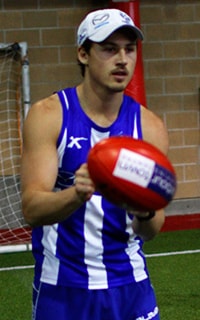 With two Aaron's, two Taylor's and two Scott's on the North Melbourne list, differentiating between team-mates on the training track can be tough.
Enter some new faces and the players take the chance to get creative; nicknames are all the rage.
NMFC.com.au
received some insight on some of the new tags getting around in Utah.
Nicknames

Shaun Atley – Sexy
Explanation: Following a newspaper article which touted North's back-line "sexy" with the likes of Luke McDonald and Atley, the latter was the unlucky recipient of a new nickname.
His former tag 'Humphrey' has taken a back seat after the number 18 was one of the stars in a popular blog
Buried Treasure
on the club's website.
Ben Cunnington – Plow
Explanation: He's the man who simply can't be tackled, and Cunnington's ability to 'plow' through the opposition with ease makes it the perfect fit.
Nick Dal Santo - Fossil
Explanation: Given the nickname 'pup' in his St Kilda days for his supposed 'puppy fat' as a youngster, Dal Santo's team-mates think a new nickname is appropriate for the now 29-year-old veteran.
Cam Delaney – Leggy/Mountain Goat
Explanation: Delaney's long legs are the envy of models worldwide.
Perhaps they are the reason behind his amazing hiking ability, drawing the nickname 'Mountain Goat'.
Sam Gibson – Onions
Explanation: Despite their joy at his recent marriage, the players can't help but give their team-mate flack with news his eyes were full of tears upon reciting vows.
Taylor Hine – Soupy
Explanation: It's taken the boys a while to work out this one, but Hine and Heinz, the food company famous for its soup do sound alike.
Ben Jacobs – Franky/snags
Explanation: According to his team-mates, he's the man who simply can't get any definition in his arms, no matter how many weights he lifts. His arms have been described as sausage like or 'tubes' by one
NMFC.com.au
source.
Jamie Macmillan – Horse
Explanation: The boys still can't work out the reasoning behind it, but Macmillan earned the nickname 'Horse' after Eagle Patrick McGinnity called him that in a game.
Luke McDonald – Taxi
Explanation: The grey spot in McDonald's hair initially saw him labelled 'Silvertop'. The natural evolution was to take it a step further with a link to the Australian Taxi company.
Timmy McGenniss – Peppers
Explanation: Some nicknames have little substance, as is the case with McGenniss. Apparently a fan of salami sandwiches in a past-life, he was handed 'Peppers', as in a Pepperoni pizza.
Robin Nahas – Uzzy
Explanation: The boys see a great resemblance between the Kangaroos' new recruit and English boxer Usman 'Uzzy' Ahmed.
Decide for yourself below.

Mitch Wilkins – Jimmy
Explanation: For any player, getting to know their team-mates is vital. Obviously not for Sam Gibson, who was calling Wilkins 'Jimmy' for the best part of a year. The nickname has stuck.