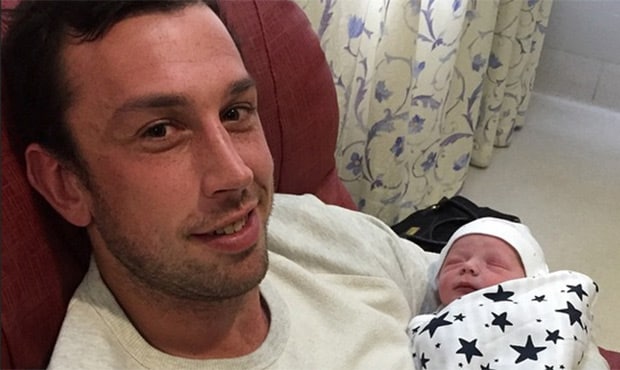 Todd Goldstein know he's facing a battle; not only on the field on Saturday against a Richmond side looking for redemption, but also on the home front.

With the birth of his first boy Lachlan, the 26-year-old knows he and his wife Kirsty will have their hands full.

"We've got three kids under five now. It's going to be full on," he told NMFC.com.au.

"Being young, we thought it would be best to have kids early and hopefully they can all be friends later in life and look after each other.

"I think we were hoping for a boy mainly because the thought of having three teenage girls at the same time freaked us out."

The brother of Olivia (4) and McKenzie (2), little Lachlan's arrival on Tuesday was considered very good timing and meant his dad didn't have to weigh up being at the birth or playing footy in Hobart.

"We discussed it but I was always leaning towards playing. If it had been our first child, I would have gone to the birth. I felt that if the club selected me to play, I had a responsibility to take my spot and not let the club or my teammates down and Kirsty was good with that decision.

"I always felt that it would have been very unlucky to have happened on game day and I was glad we didn't have to make the decision in the end."

However the league's in-form ruckman said leaving the little man behind was a tough.

"It's incredibly hard. The bond that you have with your children is very special and you don't want to miss any opportunities grow and foster the relationship but to support my family I have to go to work and do my job well.

"I was there for the birth though and got to spend Wednesday and Thursday with him and thankfully I'll be back in time to collect them from the hospital and bring them home on Sunday."

As for the name Lachlan? Goldstein said it was an easy choice.

"Well I just got so excited when I heard Lachie Hansen was playing this week. I was actually in the hospital looking at Twitter and saw that Brad Scott said that Lachie was playing at his press conference and thought that there was really no better way to honour Lachie's first game of the year than by naming my boy after him.

"In all seriousness there was no meaning behind it. Having played at a footy club for nine years and going to an all-boys school when I was younger, there was no escaping some kind of connection. We were struggling to find a name actually and finally decided just before midnight on Tuesday."

In what's been a big week, Goldstein knows he now has to focus on the Tigers and a big challenge against Ivan Maric.

"Ivan's a great ruckman and I always know I'm going to be in for a tough day when I go up against him," Goldstein said.

"He loves the contested stuff, he's a strong body and is hard to move around. It's always a physical encounter with him and we both know that whoever wins the ball at the stoppages is likely to win the game so it's a massive task. I'm really looking forward to it."

Goldstein is also looking forward to seeing what his boy Lachlan choses to do when he grows up and knows what all North supporters will be hoping for.

"I had a lot of Tweets about that and a lot of supporters celebrating a future ruckman for the club. If he was to play for North one day, it's obviously a long way down the track. I'd be just as happy for him to play basketball or any sport as long as it's not dancing … I can't do any more concerts!"

So is there any chance of adding another Goldstein to the clan?

"Um, no," Goldstein answered bluntly.

"Three kids is definitely it."