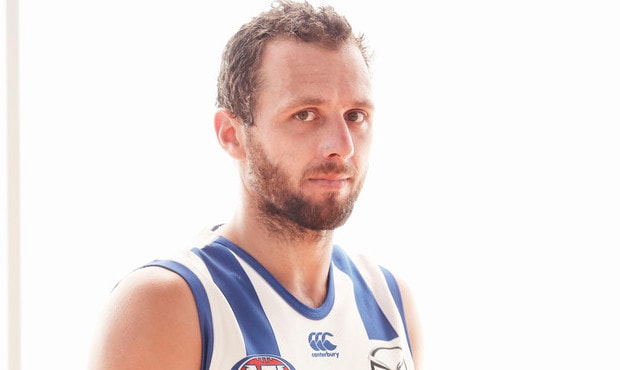 Scott McMahon knows he has his critics. He knows there are people that have already written him off. He's well aware there are those who say his career is at the crossroads.

But the 29-year-old "doesn't care" what any of those people think.

After being overlooked for the first nine weeks of the season, the veteran defender has been recalled for his first game of 2015.

"I always hear, "He's too slow. He's too fat. The game's gone past him" but I never believed any of it," McMahon told NMFC.com.au.

"I don't read into what's been written about me or what's been said because I know I can still play at this level and that's the main thing.

"Some people probably did (write me off) but to be honest I don't care what other people think."

Although he maintained his confidence, there were times he feared he had played his last game for North Melbourne.

"There was probably a little bit of that (doubt). I never thought I was past it or that I couldn't play at AFL level anymore but when you've been left out for the first nine rounds, have only played one NAB Cup game and haven't had much of a look in, except the last two weeks when I've been named as an emergency, it crept into my mind that maybe I wouldn't get to play for the club again," he said.

"If anything, that drove me even more because my body has been the best it has been for the last four seasons.

"Without sounding arrogant, I suppose every week I expect to be in the team. The fact that I haven't been in the side meant that I had to just go back to the VFL and do everything I possibly could to convince the coaches that I can still play at the level.

"Come every Thursday and Friday, I'd just hope my name was in the best 22. This time around it was and I have to hope I can keep it there."

Playing under former Kangaroos' development coach John Lamont at Werribee in the VFL, McMahon was able to string together a series of solid games. His love for the game the main driver.

"The biggest thing for me is that I pushed it to the back of my mind the fact I wasn't playing in the AFL," McMahon said.

"If you ask anyone, they'll tell you that I truly love this game whether I'm playing AFL, VFL, Country or local footy. It doesn't matter where it is, I just love playing the game and there's something about it that's hard to give up.

"I've been going out there with Werribee and enjoying my footy and that's the main thing I've been concentrating on.



"The last few weeks I've just tried to be more physical with my opponents and that seems to have worked to a certain point. I think I just have to play the way I've been playing in the VFL because that's what's got me back into the North side."

McMahon's games tally will hit 123 when he runs out to play the West Coast Eagles at Blundstone Arena in Hobart on Sunday.



Getting another senior game under his belt has taken an incredible amount of dedication and persistence. In the pre-season, he dropped a remarkable 8kg by adopting a strict diet and training regime.

"I bumped the diet during the pre-season training because I needed as much energy as I could get, but as soon as the training loads tapered off, I jumped back onto it and am playing at my ideal weight of about 87 to 88kg," he said.

McMahon said finding out he was back in the side came as a surprise and for a moment, it felt like he was making his debut again.

"I was told in the meeting before the main skills on Thursday. Crock (Darren Crocker) just said in front of everyone that I was playing this week.

"It was a bit of a shock that he told me in there to be honest because it's not the normal place you'd find out team selection news. Normally the coach will come to you individually after training and tell you if you're in or out. He just said that because of my form in the VFL, I warranted a spot in the side so hopefully I can repay the faith of the coaches.

"The majority of the boys came up and shook my hand and said, "well done, you've been working your backside off. It's well deserved." and things like that. I had some text messages later that night from a few blokes too.



"It was strange because I was being congratulated by guys I've already played a lot of footy with and it felt like it was my first game or something. When I got a text message from Drew (Petrie) congratulating me, I felt like I needed to remind him that I've played with him before.

"They were all acting like I was like a new player coming in for the first time or something."

Up against a rampaging Eagles, there's no doubt McMahon will be out to remind everyone that he's still got plenty left to offer.