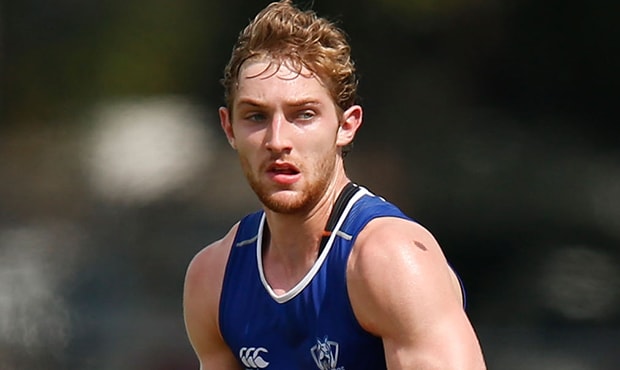 Daniel Nielson has received a welcome boost as he continues his rehabilitation from a knee reconstruction, with the first-year key defender re-signing with North Melbourne to the end of 2017.

Nielson, North's second pick in last year's national draft at No.25 overall, was contracted to the end of 2016 but this week finalised a new one-year deal with the Roos.

After forcing his way into North's opening NAB Challenge game against Adelaide, Nielson ruptured his left anterior cruciate ligament in a tackling drill in March and had a traditional reconstruction soon after.

Nielson told AFL.com.au North's show of faith had been tremendously reassuring as he worked towards a return in 2016.

"It was a bit frustrating to do all the hard work in the pre-season and just be coming up to the fun stuff and then do my knee," Nielson said.

"It's really nice that the club sees something in me and for them to give me that extra year is a great support and reassurance.

"I guess it shows a bit of faith in my ability and it's a bit like they're saying, 'We've got your back and we believe in you.'

"It's really nice to have that support. It gives me that reassurance for next year and the year after to come back and give it my best."

Four months into his rehabilitation, Nielson is making encouraging progress.

He is running at 70 per cent of his body weight on an Alter-G treadmill and expects to start running on the track in the next week or two.

He started skills work about a month ago, but is not yet attempting to kick more than 35m or participate in any drills requiring lateral movement.

Nielson has also used his time out of the game to build his upper-body strength – he has added 5kg since arriving at Arden Street to now tip the scales at 97kg – something he hopes will fast-track his ability to match hardened AFL forwards in one-on-one contests.

The former Eastern Ranges player expects by the start of the 2016 pre-season he will be able to complete most of the running and skills work, but will be eased into contested work, game-sense drills and agility running in the latter half of the summer.

But the 19-year-old says "there's no rush", knowing he has to take all the time he needs to get his knee strong and stable enough to cope with the rigours of AFL football.

And while the monotonous nature of rehab sometimes makes Nielson feel like he's stuck in "Groundhog Day", he has recently had company to make the time to pass faster.

For about the past six weeks, fellow 2014 draftee Ed Vickers-Willis has been by his side in the gym and during cross-training and skills work.

"It's good to be able to support each other, to be there together working our arses off and trying to get ourselves fit and ready for next year," Nielson said.

Vickers-Willis had reconstructive surgery after dislocating his left shoulder playing for Werribee in May and was also ruled out for the rest of the season.

Less than a month later, North's first pick in the 2014 draft, Sam Durdin, also suffered a season-ending shoulder surgery.

So in the space of three months, all three of the Roos' selections at last year's national draft were ruled out for the year before making their AFL debut.

"We've had a bit of rotten luck injury-wise. Two shoulders and a knee, you never expect that to happen," Nielson says.

"We can't really do much about it now. We've just got to all focus on the future, focus on next year and get ourselves better in rehab.

"I'd never had an injury in my life until now. Hopefully, I've just got the big one out of the way and I can focus on next year and go forward from there."