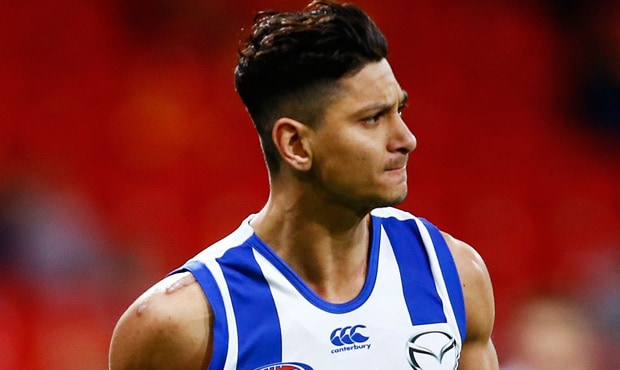 Robbie Nahas excelled for North Ballarat on Saturday, kicking three goals and laying nine tackles.
With his best on ground performance for the Roosters, the small forward is primed to forced his way back into the North Melbourne line-up to face Brisbane on Saturday night.

RELATED: Roosters Report Card
Nahas missed the Roos' victory against Geelong due to injury last week and the form of Kayne Turner and Taylor Garner kept him out for the following match against Essendon.
"It's disappointing, and let's be honest; if I wasn't frustrated at it, I shouldn't be playing," Nahas told NMFC.com.au.
"But at the same time, you've got to understand it is what it is, and if you give a guy an opportunity and they take it, it's good for the team.
"You've got to control what you can control, and I think I've done that."

RELATED: Robbie Nahas' player profile
Nahas showed no signs of the hamstring injury that interrupted his solid season in the loss at Windy Hill.
"I struggled early, but I thought I got more into the game in the second half," he said.
"Tackling (and pressure) is always the main focus. Some weeks it's easier than others, but the effort is always there. Lucky today a couple of blokes fumbled while I was chasing and I got a couple of tackles, which was good."
For the first time in Nahas' career, he was part of a head count. During the first term, North Ballarat believed Essendon had 19 players on the ground.
But under VFL rules, the captain of the side is the only one allowed to officially call for the count, and Myles Sewell was off the ground at the time.
Once Sewell had made his way on, the moment had passed. Nahas said it was a confusing passage of play.
"Somebody's called 19 on the ground for Essendon. But by the time the umpires had brought everyone in, the 19th player had managed to get off the ground," he recalled.
"I told the umpires they were wasting our time (as they were counting), you're going to find 18 against 18.
"Then it resulted in Essendon having a free kick from the goalsquare because it was an incorrect count by the time they did it."
The upcoming week will be full of build up for a monumental North Melbourne milestone as Brent Harvey prepares to play his 400th game and Nahas will fight hard to be a part of it.
"I'd love to play for Boomer's 400th," Nahas admitted.
"He's taught me a lot in the year and a half I've been at the club. To play in his milestone game would be something I'd hold close to me and look back at after the end of my career.
"But the motivation just to get back in the ones, when it feels like we're starting to get some momentum, is a big factor."