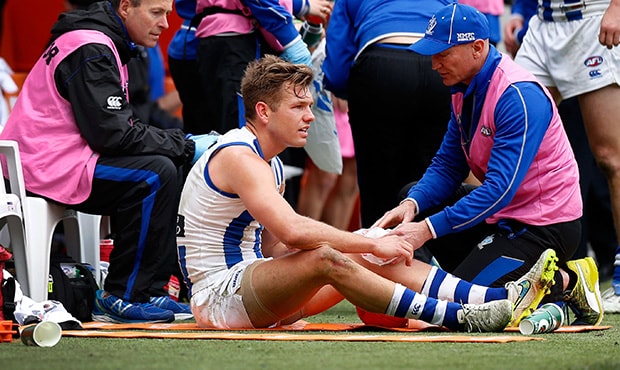 Shaun Higgins has allayed fears about his availability for North's match against the Saints, telling Fox Footy's On the Couch program he'll be "right to go" despite a lingering knee concern.
The boom recruit had scans on Monday morning following the Roos' win over Melbourne but dismissed concerns about his fitness.
"It's something that's just been floating along for a while and given where I'm at in the season, we wanted to just to see where it's tracking compared to the start of the year," Higgins said.
"All good and I'll be right to go this week."
Higgins was best on ground for North at the MCG on Sunday with 31 possessions and two goals and said he's relished the opportunity to play as a mid/forward again.
North has won its past five matches and Higgins believes some unsung heroes have been the key to the club's success.
Ben Jacobs is just one of those who deserves much of the credit for carrying out vital tagging jobs on the opposition's most dangerous ball-winners.
"He's just thrived on the responsibility and given a role each week and sometimes players respond to that and he's got a clear focus now (of) what to do on game day," Higgins said.
"It's massive in today's game and Benny's been amazing the last six or seven weeks and taken down some big names. On the weekend – (he) kept Jones to 13 or 14 touches I think, it was a really big effort."
Higgins also said coach Brad Scott has adopted a more aggressive approach since returning from back surgery and it hasn't gone unnoticed among the players.
"No doubt he's come back from that break with a clear focus of, "this is exactly how we need to play" and I think the results over the last six weeks have shown that."
After spending several years with the Bulldogs, Higgins felt a move to another club at the end of the 2014 season would revitalise his career.
He said North was the perfect fit.
While other clubs were circling, Higgins explained the meetings with Kangaroos' representatives were on the mark right from the outset.
"They also spoke about where they see me as a player and where I could fit in to the side and that was important for me obviously coming off a couple of years where I was floating in between positions."
Although talk of a flag wasn't a key consideration, the 27-year-old acknowledged it helped knowing North was right in the mix.
"We've all been in footy long enough to know there's no guarantees," he said.