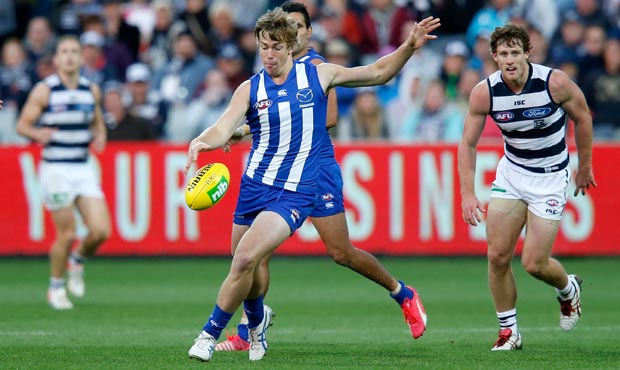 Midfielder Trent Dumont says he is trying to add a new midfield-forward component to his game to give himself the best chance of breaking into North's squad.
The 20-year-old, who has featured in seven matches for the Roos, has played five of the last six games for VFL affiliate North Ballarat since being omitted in round 15.

RELATED: Trent Dumont's player profile
Dumont said he had started playing in a new mid-forward position in the past two weeks to complement his inside midfield role.
"I'm working on adding another string to my bow," Dumont told NMFC.com.au.
"There are different running patterns that you have to utilise as a mid-forward and a lot of the time, you're running away from the ball to create space.
"It's beneficial that if you're struggling in one spot, you can go to another and add variety to your game."
Drafted as an inside midfielder with pick No.30 in the 2013 national draft, Dumont's new-found role means his impact is no longer restricted to stoppages.
The mid-forward position has given Dumont added belief that he can drift forward and provide a link inside 50 with score assists and score involvements.
The 186cm onballer took a step in the right direction last Saturday, finishing with 35 disposals, eight tackles and seven marks in the Roosters' eight-point win over Collingwood.
Dumont said he was pleased with his individual efforts against the Magpies.
"I thought the weekend was a massive step forward," he said.
"I got the numbers I wanted by using the ball the way I wanted to, carrying it and getting a good balance of inside and outside footy, so that was a positive."
North coach Brad Scott said Dumont's willingness to take on the extra mid-forward responsibilities would help fast track his development.
"In modern football, it's about being able to play multiple positions and not being pigeonholed into one style," Scott said.
"He's added a few different components to his game and he's always been a good inside contested ball-winner, but his ability to get out of the stoppage, go forward and have an impact has really improved.
"That just elevates his chances of being selected in the senior side."
Dumont is a chance to play in Sunday's clash against ladder leader Fremantle after being named in the Roos' 25-man squad.
If he is not selected in the final team, Dumont acknowledged he would be running out of time to prove himself, with just one game remaining for North Ballarat after this week's bye round.
"If I don't play this Sunday, we've only got one more game for North Ballarat so I've got to make it a good one and hope things roll my way," he said.
"I'm just going to approach it as I approach all games – with clear focuses and hard work."