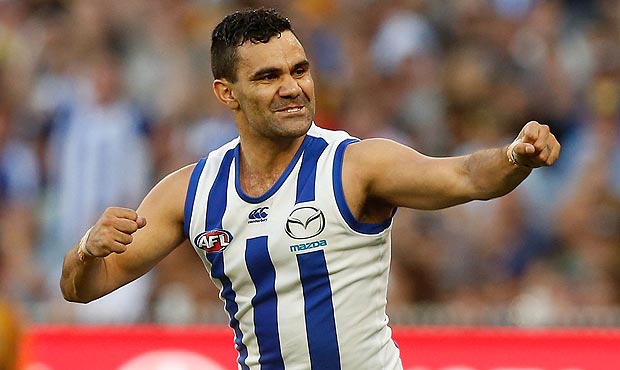 With North Melbourne's 2015 season now complete, NMFC.com.au analyses the performance of each player for the year.
Statistics, a coach review and their efforts in each half of the year are below, as well as a comment section for you to have your say.
Statistics
AFL appearances: 21
Disposal average: 10.4
Goals: 34 (4th at NMFC)
Tackles: 59
Inside 50's: 52
Goal assists: 15 (4th at NMFC)
Season highlights
Round 6 v Richmond: 13 disposals, five goals, two Brownlow votes
Round 19 v Melbourne: 16 disposals, five marks, five goals, two goal assists
View Thomas' player profile here
First half review – Shane Watson
"He's averaging two goals a game which isn't bad, but he's been a bit quieter in recent weeks.

"His first eight games were pretty consistent but we've seen a little bit of a drop off in the last month.

"If he goes the way he's going, he'll end up kicking over 40 goals and he's done that for the last two years. He wants to try and average two goals a game and be consistent."
Second half review – Shane Watson
"He was averaging two goals a game the first half of the year, he just lost a bit of form and then his foot didn't help because he couldn't always train.
"But he was still able to contribute in the finals as the sub, coming on and kicking crucial goals. He's still very important going forward to us once he gets back to full fitness and completes a full pre-season."
In the news
August 27 – Foot sidelines Thomas – STORY
"It's got to the point now … where we can't keep expecting him to carry it – we want him to get it right."
August 3 – Lindsay's eyes wide open – STORY
"I really had to go back and have a good look at myself and go back to what makes me a good player."
Have your say on Thomas' 2015 in the comments below
/** * RECOMMENDED CONFIGURATION VARIABLES: EDIT AND UNCOMMENT THE SECTION BELOW TO INSERT DYNAMIC VALUES FROM YOUR PLATFORM OR CMS. * LEARN WHY DEFINING THESE VARIABLES IS IMPORTANT: https://disqus.com/admin/universalcode/#configuration-variables */ /* var disqus_config = function () { this.page.url = PAGE_URL; // Replace PAGE_URL with your page's canonical URL variable this.page.identifier = PAGE_IDENTIFIER; // Replace PAGE_IDENTIFIER with your page's unique identifier variable }; */ (function() { // DON'T EDIT BELOW THIS LINE var d = document, s = d.createElement('script'); s.src = '//nmfc.disqus.com/embed.js'; s.setAttribute('data-timestamp', +new Date()); (d.head || d.body).appendChild(s); })();