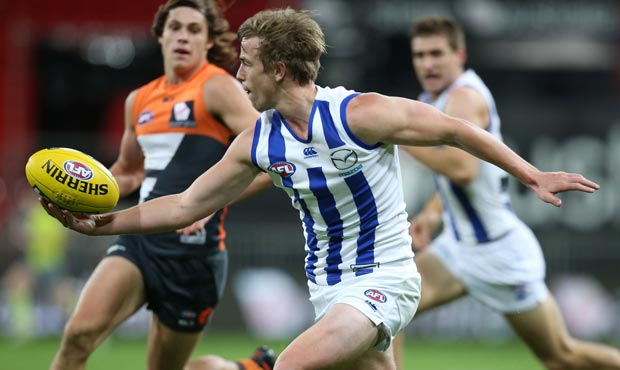 With North Melbourne's 2015 season now complete, NMFC.com.au analyses the performance of each player for the year.
Statistics, a coach review and their efforts in each half of the year are below, as well as a comment section for you to have your say.
Statistics
AFL/VFL appearances: 8/9
Disposal average: 10/25
Goals: 2/5
Tackles: 32/63
Inside 50's: 15/27
AFL listed first, followed by VFL
Season highlights
Round 4 v Geelong: AFL debut
Round 9 v Collingwood: 18 disposals, 10 tackles, seven clearances
View Dumont's player profile here
First half review – Leigh Tudor
"He was made to earn his spot in the 22-man squad. He had some things to work on with the development boys but when the opportunity came, he really grabbed it.

"He's been hard and clean which are the two most important things for an inside midfielder and he showed he can do that.

"He's starting to learn the lifestyle of an AFL player now that he's played a few games and understands all he needs to do."
Second half review – Jarred Moore
"Probably what hurt him was how he was sub for a few weeks in a row, so he lost a bit of fitness because of that.
"Then he had to build that back up before he started playing some good football again in the VFL.
"He definitely showed at AFL level that he can play and Trent knows that.
"If he can build on his aerobic base, the lack of a sub next year will definitely help him. He can play a bit of half-forward as well if needed and be versatile."
In the news
August 21 – Dumont's new role – STORY
"It's beneficial that if you're struggling in one spot, you can go to another and add variety to your game."
June 3 – Froggy feeling at home – STORY
"On the field, I just keep it as basic as possible and try to do it consistently well, follow instructions and work hard."
Have your say on Dumont's 2015 in the comments below
/** * RECOMMENDED CONFIGURATION VARIABLES: EDIT AND UNCOMMENT THE SECTION BELOW TO INSERT DYNAMIC VALUES FROM YOUR PLATFORM OR CMS. * LEARN WHY DEFINING THESE VARIABLES IS IMPORTANT: https://disqus.com/admin/universalcode/#configuration-variables */ /* var disqus_config = function () { this.page.url = PAGE_URL; // Replace PAGE_URL with your page's canonical URL variable this.page.identifier = PAGE_IDENTIFIER; // Replace PAGE_IDENTIFIER with your page's unique identifier variable }; */ (function() { // DON'T EDIT BELOW THIS LINE var d = document, s = d.createElement('script'); s.src = '//nmfc.disqus.com/embed.js'; s.setAttribute('data-timestamp', +new Date()); (d.head || d.body).appendChild(s); })();