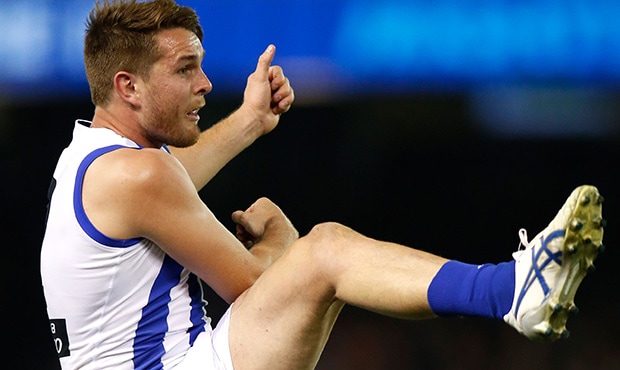 With North Melbourne's 2015 season completed after a preliminary final loss, NMFC.com.au analyses the performance of each player for the year.
Statistics, a coach review and their efforts in each half of the year are below, as well as a comment section for you to have your say.

RELATED: More player reviews
Statistics
VFL appearances: 15
Disposal average: 20
Tackles: 60
Inside 50's: 45
Rebound 50's: 30
Season highlights
Round 23 v Richmond: 18 disposals, six clearances, one goal
View McKenzie's player profile here
First half review – Gavin Brown
"He's playing midfield with a little bit of wing. He's playing consistent footy with a concentration and focus on his inside work. He's really improved in both of those areas.
"Over the last four or five weeks he's been tracking well."
Second half review – Jarred Moore
"By his own admission he struggled for the first few rounds.
"After sitting down and working everything out he knuckled down and played some really good footy in the back end of the year.
"From halfway on the majority was on the wing and his work rate went to another level.
"To be able to force his way into the side for Round 23, then play well, showed everyone he's definitely up to the standard. We're hoping to see more of him."
In the news
September 4 – Confidence key for McKenzie – STORY
"I've been playing my best footy over the last eight to 10 weeks through the midfield, so my consistency has been a massive improvement for me."
July 7 – Turning a corner – STORY
"I feel like I'm getting my hands on the ball a lot more, I'm sharper … and my work rate is up the last few weeks."
Have your say on McKenzie's 2015 in the comments below.
/** * RECOMMENDED CONFIGURATION VARIABLES: EDIT AND UNCOMMENT THE SECTION BELOW TO INSERT DYNAMIC VALUES FROM YOUR PLATFORM OR CMS. * LEARN WHY DEFINING THESE VARIABLES IS IMPORTANT: https://disqus.com/admin/universalcode/#configuration-variables */ /* var disqus_config = function () { this.page.url = PAGE_URL; // Replace PAGE_URL with your page's canonical URL variable this.page.identifier = PAGE_IDENTIFIER; // Replace PAGE_IDENTIFIER with your page's unique identifier variable }; */ (function() { // DON'T EDIT BELOW THIS LINE var d = document, s = d.createElement('script'); s.src = '//nmfc.disqus.com/embed.js'; s.setAttribute('data-timestamp', +new Date()); (d.head || d.body).appendChild(s); })();