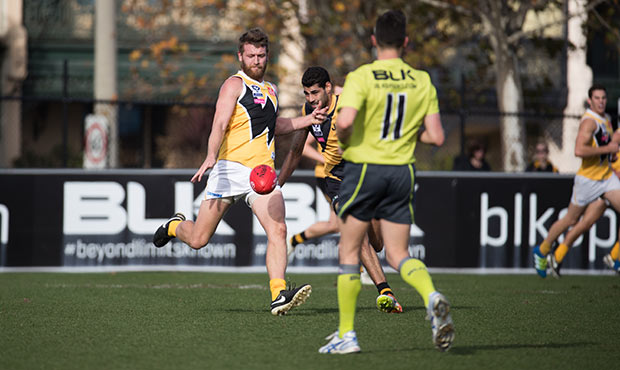 After its fourth loss in as many weeks, Werribee is at home again and desperate to turn its fortunes around.
WHO: Werribee v Coburg
WHERE AND WHEN: Avalon Airport Oval, Saturday June 25, 2:00pm EST
COVERAGE: NMFC on Twitter | Werribee FC on Twitter | Match reports and highlights post-game on NMFC.com.au.
NMFC MEMBERS FREE: North members receive free entry upon presentation of membership card
TICKETS: Available at gate - Adults $10, Concession/Children under 15/Pensioners $5
SUMMARY
It's 10th vs 12th at Avalon Airport Oval, as John Lamont's Tigers take on Coburg.
The Lions had a forgettable start to the year, losing their first five games, but have bounced back in recent weeks with three wins from the last five.
It's very much the opposite equation for Werribee; having won their first three games, the Tigers have lost five of their last six.
With several key names missing for the home team, it looms as an intriguing battle.
THE TEAMS
Werribee
B 2. S Sherlock 34. J Tippett 12. J Wilson
HB 37. W Fordham 91. L Hansen 3. M Sodomaco
C 7. J Jones 4. T Gribble 6. B Speight
HF 51. R Nahas 18. J Porter 74. J Anderson
F 23. B McKay 35. A Black 13. R Clarke
R 31. B Preuss 11. M Hanson 42. D Mountford
Int 24. M Munro 39. M Hibberd 25. D McFarlane 48. N Meredith 5. I Conway 26. D Nielson 10. J Maishman 33. E Vickers-Willis
23P 76. L McCartney
Ed Vickers-Willis has been a key player for Werribee in the past fortnight.

Coburg
B 4. R Fox 27. K Staples 15. J Iacobaccio
HB 19. M Mattingly 21. R Lehmann 62. L Ryan
C 9. N Blair 26. L Hunt 23. A Saad
HF 37. K Posar 16. L Featherstone 1. B Allan
F 5. J Cauchi 50. C Urquhart 10. D Younan
R 29. T Goodwin 8. O Uysal 3. N Thomas
Int 14. M Ercolano 44. J Madden 32. R Schraven 38. J Clarke 6. M Orr 18. M Merlo 11. G McDonagh 20. N Robortella
23P 24. Z Wunhym
THE AFL CONTINGENT
North Melbourne (Werribee)
Robin Nahas' call-up to the Roos' side means Werribee will be missing a handy goal-sneak.
Jed Anderson though will be looking to make an impact in the small-forward role, in his second game back.
Key-forward Ben McKay played his best game of the year last week, booting three goals, and will be looking to continue that form, while Aaron Black sits third on the league's goal-kickers' list, despite a couple of lean weeks in front of the big sticks.
Having made the trip to Adelaide as an emergency, Ryan Clarke will look to continue his outstanding progress through the midfield.
THE VFL CONTINGENT
Werribee
Tom Gribble was again a standout for the Tigers last week, while Josh Porter booted two goals.
Former Roo Ben Speight was a welcome sight for just his second senior game of the year.
Coburg
While Coburg has lost seven of its ten matches, its been one of the more competitive sides in the bottom half of the table, boasting a percentage above 98.
Ahmed Saad has played a key role, leading the league's goal-kicking with 24, while Lech Featherstone has booted 18.
Defender Robbie Fox has regularly been among the Lions' best in recent weeks.
Werribee coach John Lamont will be searching for a lift from his players.