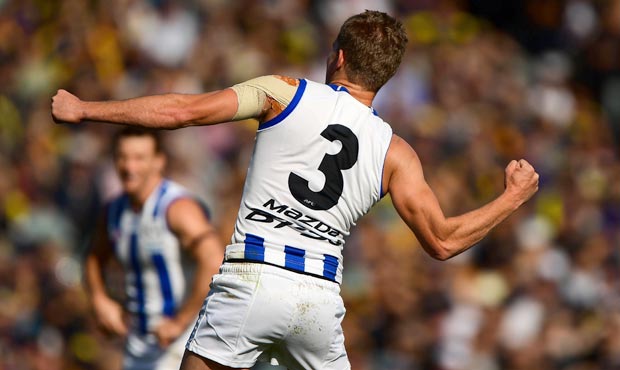 With North's 2016 season complete, NMFC.com.au analyses the performance of each player by using statistics, a coach review, season highlights and much more.
In his first season at Arden Street, Anderson injured his hamstring in the season opener against Adelaide.
However, he was able to force his way back into the side and played the last nine games of 2016.
View Jed Anderson's player profile
Statistics
AFL
Games: 10
Disposals: 107
Tackles: 32
Inside 50s: 27
VFL
Games: 2
Disposals: 20
Tackles: 8
Season highlights
Round 16 v West Coast: First goal as a Roo
Round 20 v Western Bulldogs: Season high 16 disposals
Quotes
"At the start of the season it really weighed on my mind a little bit, and then getting injured didn't really help." – Anderson talking about his start to life at North
"I just wanted to get out there today and have my voice around the contest and set the guys up." – Anderson on his VFL comeback from injury
"The boys got around me and I'll always remember Boomer (Brent Harvey) kicking it to me, so it was really exciting." – Anderson on his first goal as a Roo
What the coach said – Leigh Tudor
"He came to the club early in pre-season and he earned the respect of the players by doing that.
"That's how he was for the whole pre-season, keen, ready to learn and then unfortunately in Round 1 he hurt his hamstring and missed a lot of weeks with that.
"It (the injury) really set him back and it was a great effort to get back in the side but I just can't wait to see him with a full pre-season.
"He understands the way we want to play, we can work on the things to improve and he has some really good assets that we like.
"The stretch of consecutive games would have been good for him, even though he thought he had things to improve on from later in the year.
"There's a bit of work to do on things like finding more of the ball, but overall we were happy with him and next year is a big year for him."