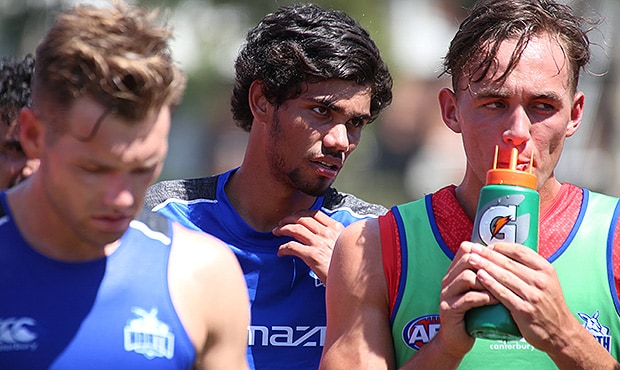 Director of Coaching Darren Crocker believes the future of the North's Next Generation Academy in Tasmania is bright.
The club welcomed four Tassie young guns, Rhyan Mansell, Leiwyn Jones, Tarryn Thomas and Tyran Mansell to Arden St this week, with the quartet learning about life as a professional footballer.
"It's just good to start building the relationship with the Next Generation Academy in Tasmania," Crocker told The Mercury.
"It's good to start opening up the relationship ... we hope to get the boys back again so it continues, they continue to foster and grow, and we can improve them and make them the best they can possibly be.
"We want to make Tasmanian players the best they possibly can be and hopefully we can get some more up here."
While footy skills were a focus, it's off the field where the greatest lessons can be learnt.
"They had dinner with the leadership group on the Sunday night and they were told about the players' training plan for the week, but it has probably been more about what they do away from the field," Crocker said.
"What's professional recovery like, what nutritional information they need to know, what mental skills they can use to grow as players ... things that make up the life of an elite footballer. Hopefully it was of benefit to them."
The Next Generation Academy aims to ensure the game continues to attract and foster the development of players, regardless of background or location.