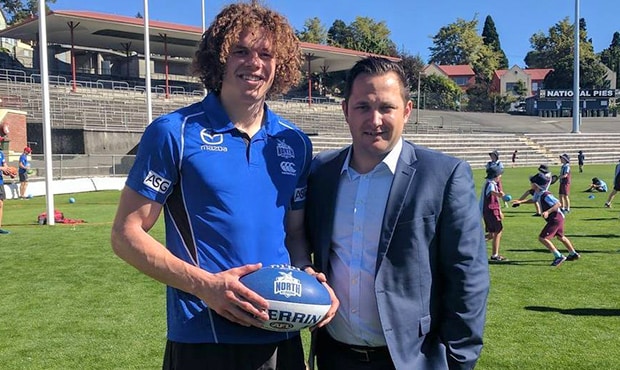 AFL Tasmania and North Melbourne are excited to announce a new partnership and joint strategic plan.
The partnership focuses on accelerating participation, particularly at the junior level, and providing support and expertise to the Tasmanian talent pathways for aspiring male and female footballers.
Participation acceleration and growth will be achieved through the North Melbourne Football Club Next Generation Schools Program, which will be delivered thanks to the support of the City of Hobart. The program takes the successful Next Generation Academy model and tailors it to all schools, right across Tasmania.
The Next Generation Schools Program is an innovative and engaging program that focuses on students, classrooms, teachers, the school yard and families within Tasmania.
Tasmanian Football Council Manager Jackson Hills says through the program, AFL Tasmania and North Melbourne are aiming to reach 80% of Tasmanian schools from 2017.
"The Next Generation Schools Program is a game changer for students in Tasmania," Hills said.
"It will see more students than ever before engage with football in school and involves much more meaningful connectivity with the game, it is customised for all levels of skill and age group development, in addition it offers merchandise and discounted membership opportunities for footy loving families.
"We see the class room as a key component to stimulating and growing participation in our state and with North Melbourne's support in launching Next Generation Schools, we are bullish about the future for our game through class room and beyond.
"This will help the Tasmanian football council grow participation in community football across the state."
North Melbourne and Tasmania's own Ben Brown is the face of the new Next Generation Schools Program, which will become a fulfilling part of physical education programs in schools across the state.
"Young footy players should be really excited that this program is starting up," Brown said.
"This will help give those talented young players in Tasmania a real pathway to the elite level."
North Managing Director and CEO Carl Dilena said the club was thrilled to be partnering with AFL Tasmania on the program.
"The Next Generation Schools Program is going to help aspiring young footballers to help realise their dream and build depth in the Tasmanian talent pool," Dilena said.
"Both young girls and boys will have a chance to experience what it's like to spend time in elite environments as we continue to invest in the Tasmanian talent pathways."
North Melbourne's work and support within the talent pathway has already begun and the Next Generation Schools Program will be rolled out to schools in the coming weeks.