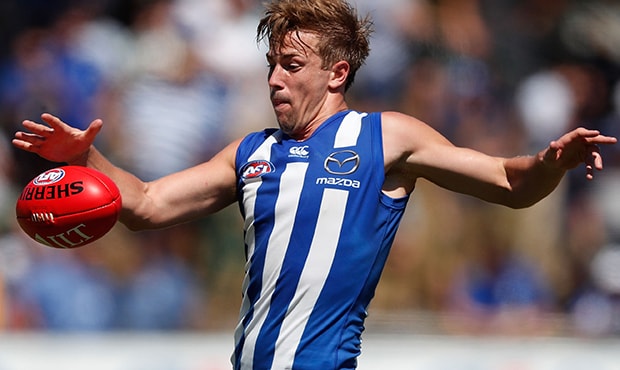 It's his fourth year at Arden Street, but Sunday will be Trent Dumont's first Round 1 game.
The 21-year-old cemented his place in the seasonn-pener with some excellent form against quality opposition.
"I feel like I've had a good pre-season and more so my last month has been really solid on the track," Dumont told NMFC.com.au.
"I started finding things that are working well for me and really put them into play."
One of those keys for Dumont is a focus on applying pressure around the ball.
No Kangaroo had more pressure acts than Dumont during the JLT Series.
"We build our game on pressure and we're a pressure team," he said.
"If I can contribute to that as best as possible, I will.
"I'll keep putting in that effort and each week it's just about work rate for me, there's no real surprises."
The North midfield will be missing a key cog on Sunday against the Eagles, with Ben Cunnington out through suspension.
Dumont admitted his role may 'change a little bit' to cover Cunnington.
"Obviously, he's a massive contested ball player," he said.
"I'll still go out there and play to my strengths, but we might have to tweak a few things."
The West Coast midfield features some of the best players in the game, with the likes of Sam Mitchell, Matt Priddis and Luke Shuey all more than capable of winning their own ball.
That means the stoppage battle will be crucial at Etihad Stadium.
"They [the Eagles] score pretty well from stoppages, and last year we didn't nullify that well enough," Dumont explained
"I think we can really challenge them in there and get our hands on the ball, get them working the other way and really challenge them the other way.
"They're a very good team, and apart from the publicised changes with Mitchell and [Nathan] Vardy and [Drew] Petrie, it's a very similar team. We know what we're coming up against."
On the other side of the equation, there is a hint of the unknown about North's line-up.
There'll be six new Roos, four of whom will make their AFL debut.
Out of all the debutants, Braydon Preuss is arguably the one who has garnered the most headlines during the summer.
In Dumont's time at VFL level for North Ballarat and Werribee, he's had the best seat in the house to watch Preuss' development.
"He's given me a fair few clearances in his time, helped me out, got me a few games last year," Dumont joked.
"He's [Preuss] really good with his tap work. He's still learning the game but he's done a massive amount of work on it and his body to get him up to AFL standard.
"I think he's ready and he's going to have a really good AFL career."