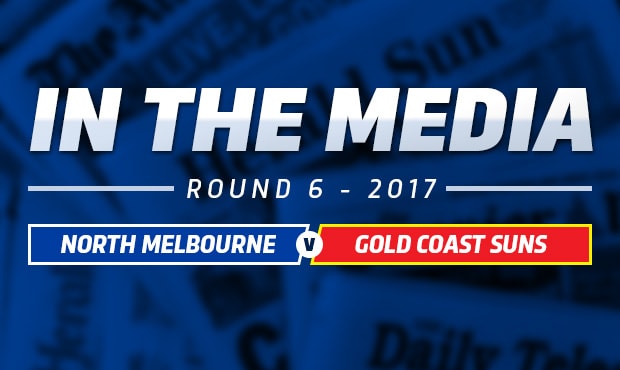 Ben Brown made headlines with his six goal haul, as North secured its first win for the season.
The Age
"Brown was already the most potent forward force on the ground come the last quarter. By midway through the term, he was also the match winner with a personal best of six goals." – Rohan Connolly
Herald Sun
"Lovable Kangaroos forward Ben Brown was the catalyst for their breakthrough win, bagging a career-best six goals." – Sam Landsberger
AFL.com.au
"Brown set the tone early, taking a superb contested mark in the first quarter, and from there he barely faltered. He took eight marks on Saturday night, and had a total of 17 disposals. But it was his final term that was most impressive. Brown kicked three final-term goals to guide North Melbourne to victory for the first time in 2017. There is no doubt the Kangaroos' future looks bright with Brown standing tall in attack." – Nat Edwards
Herald Sun
"It was Brown who was the difference between these two teams. What would he worth on the open market?" – Mark Robinson
After several close losses, North's breakthrough win was richly deserved, according to the media.
The Age
"At least North can now claim to at least have learned something from all that pain over the past few weeks. For once, it was they, not their opponent seizing the initiative when it mattered, an ice-breaking win the result." – Rohan Connolly
Herald Sun
"After three heartbreaking losses and a penchant for poor last quarters, it was finally North's night." – Sam Landsberger
AFL.com.au
"Coming into this round six clash, the Kangaroos had not won a last quarter this year, conceding a total of 170 points in the fourth term across the first five games. But against the Suns, North Melbourne held its nerve." – Nat Edwards
Marley Williams also drew praise for his amazing chase down of superstar Gary Ablett, while Shaun Higgins' big third term was also highlighted.
AFL.com.au
"There was no better moment to illustrate the changing momentum than Marley Williams catching Ablett in a tackle 15 metres out from goal. Williams managed a similar rundown a week earlier, late in the five-point loss to Fremantle.
"Shaun Higgins (28 possessions), back after being a late withdrawal last week because of a hamstring injury, was pivotal with his line-breaking dash and sublime skills in what was an at-times haphazard contest." – Marc McGowan