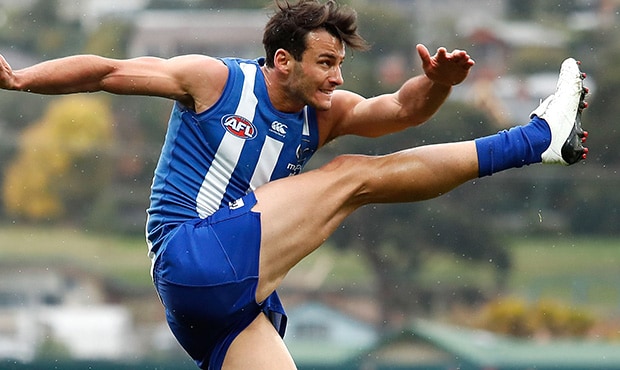 It's been a long time coming, but this weekend Robbie Tarrant will run out for game 100.
The 28-year-old has become one of the league's most formidable defenders and was unlucky to have missed out on all-Australian selection last year.
A first-round pick in 2007, Tarrant fought through early injury woes to win a Syd Barker medal in 2016.
"We could see the talent and knew what he could become but more important was the character of the guy," director of coaching Darren Crocker told the AFL Players Association website.
"Off field, he's grown into a leader and teammates want to follow him."
Crocker believes Tarrant's early struggles have made him who he is today.
"The injuries have enabled him to build a resilience," Crocker said.
"He's so important to our footy club and the direction."
At one point, Tarrant had only 39 games in seven seasons due to four shoulder reconstructions before the age of 21, hip troubles, nerve damage and a rare tibial stress fracture.
"He was probably at the crossroads at that period of time because you can only give players so long to become what we think they can become. Just because they're a good bloke, you can't keep them around if they're not getting on the park."
"There was apprehension as to whether he'll ever be able to come back from all of that and he could've thrown his hands up years ago and given it away."
After getting his body right, Tarrant has missed only three games since the start of 2015, including the last 39 in a row.
"Taz is a bloke who lets his actions do the talking for him but when he speaks you've got a room full of guys hanging on his every word because he's a measured bloke who means what he's saying," Crocker added.
"He's not someone who speaks for the sake of speaking because he's a leader, he waits for the right moments and has a greater impact on the group."
Tarrant will notch his century of games on Saturday afternoon against Port Adelaide.