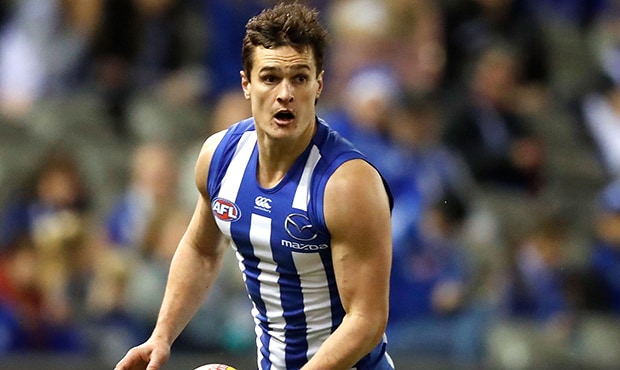 Scott Thompson, Jarrad Waite, Ben Jacobs and Declan Mountford have all accepted one-year contract extensions until at least the end of the 2018 season.
Thompson was drafted to North in the 2007 National Draft and quickly made his debut in Round 1 the following year. He has since played 200 games for the club over 10 seasons, claiming a Syd Barker Medal and All-Australian honours in 2013.
"We're delighted Scott is on board again for 2018. He is a first-class defender and a great role model to have around the club, especially for the younger players coming through," GM Football Cameron Joyce said.
Waite will extend his AFL career into a 16th season and is still one of the most damaging forwards in the league.
"Jarrad has been outstanding for us in his 47 games at North," Joyce added.
"Although he experienced a few setbacks with injury this past season, we know what he is capable of when he's fit and firing and believe he has plenty of quality football to offer.
"On top of their on-field ability, both Scott and Jarrad are very important as we continue to develop our young talent."
Jacobs will be hoping to put two injury plagued seasons behind him after securing another year.
"Despite the frustration and length of time he's endured on the sidelines recently, Ben has remained upbeat and extremely positive around the club," Joyce said.
"We are extremely confident that when back to full fitness, he will have a big impact for us."
Mountford debuted in the opening round of 2017 after joining North in the 2015 National Draft. The 20-year-old played 12 games this season.
"Declan has a great attitude and approach to his football and has improved significantly since arriving at Arden St," Joyce stated.
"We are very positive about Declan's prospects and have no doubt that his determination and professionalism will hold him in good stead heading into next year."