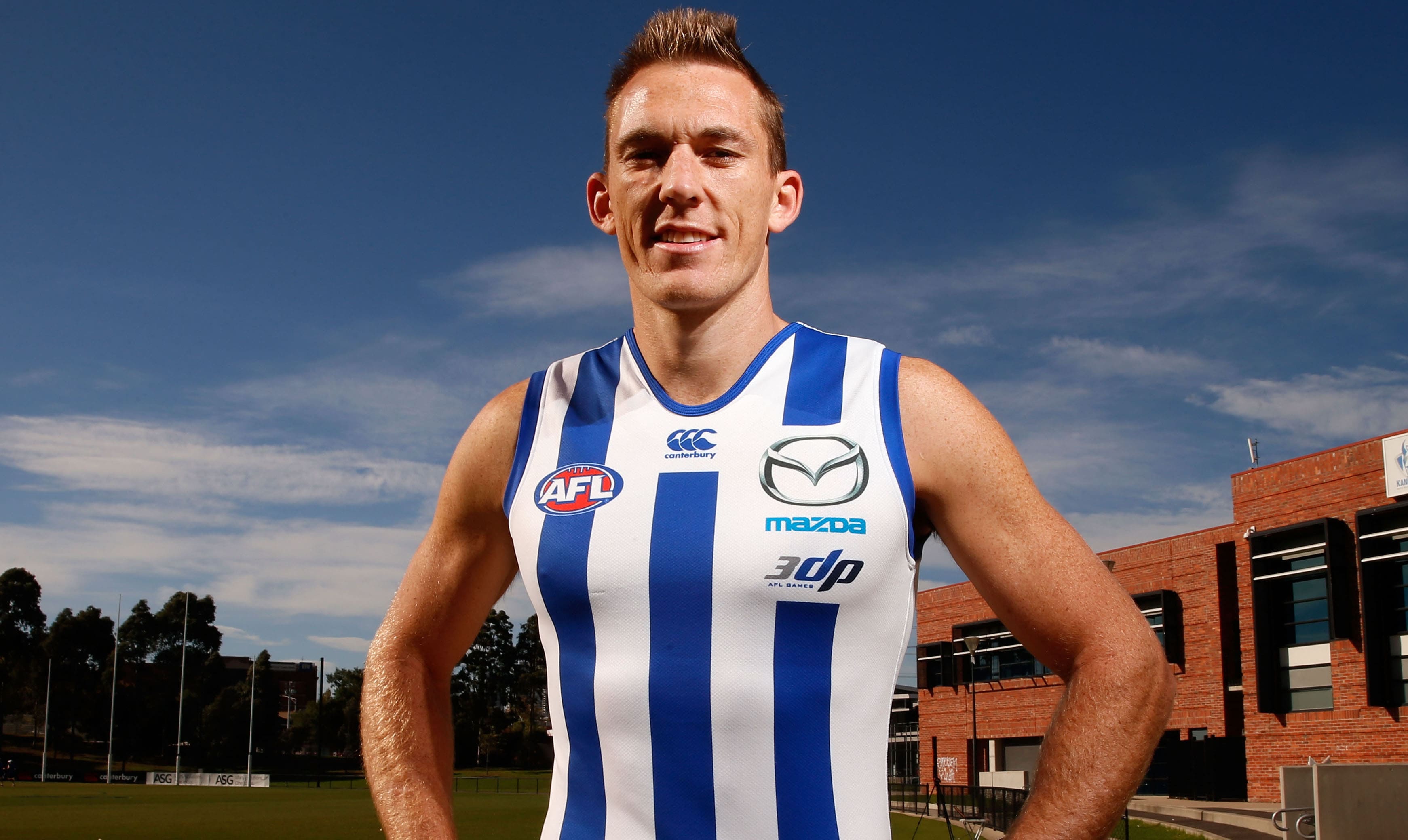 The second pick belonging to North Melbourne in the 2017 NAB AFL Draft, pick 23, is a familiar one for North fans.
As with all picks, there is a mixed history with this position in the draft order. Pick 23 success stories include premiership defender Tom Lonergan (Geelong) and key Essendon midfielder David Zaharakis, as well as legends of the game like Michael Long (Essendon).
For each Tom Lonergan, there is a Murray Newman, with numerous picks not reaching their second round potential.
To North fans, there is one pick that stands out above the rest. With pick 23 of the 2000 AFL Draft, the Roos selected Drew Petrie.
Petrie remained at the club from 2001 until 2016 and his 16 stellar seasons with North certainly left a mark on the club's record books.
The versatile big man currently sits second for games played (316), and sixth on the leading goal kicker's tally (428). Before his retirement at the end of 2017, Petrie spent a solitary year with the West Coast Eagles, playing 16 games.
Evan Hewitt and Warren Campbell are among the other players to have played at Arden St from pick 23.
Current pick 23 players plying their trade in the AFL include young guns such as Matt Crouch (Adelaide Crows), who was included in the 2017 All Australian Team, and 2017 NAB Rising Star nominee Alex Witherden (Brisbane Lions). Both players will be looking to further enhance their reputation in the competition in the coming years.
Pick 23 history
2016 - Alex Witherden - 9 games*
2015 - David Cuningham - 11 games*
2014 - Patrick McKenna - 0 games*
2013 - Matt Crouch - 72 games*
2012 - Marco Paparone - 55 games*
2011 - Murray Newman - 6 games
2010 - Cameron Guthrie - 128 games*
2009 - Koby Stevens - 89 games*
2008 - David Zaharakis - 170 games*
2007 - Tayte Pears - 70 games
2006 - Paul Stewart - 101 games
2005 - Ryan Cook - 14 games
2004 - Sean Rusling - 17 games
2003 - Matthew Moody - 34 games
2002 - Tom Lonergan - 209 games
2001 - Charlie Gardiner - 63 games
2000 - Drew Petrie - 332 games
1999 - Daniel Foster - 17 games
1998 - Christopher Ladhams - 54 games
1997 - Adam Chatfield - 1 game
1996 - Evan Hewitt - 48 games
1995 - Jay Burton - 0 games
1994 - John Rombotis - 48 games
1993 - Shannon Gibson - 28 games
1992 - Warren Campbell - 19 games
1991 - Matthew McKay - 0 games
1990 - Ben Thomas - 0 games
1989 - Roger Delaney - 1 game
1988 - Michael Long - 190 games
1987 - Scott Salisbury - 0 games
*Currently on AFL List
The views in this article are those of the author and not necessarily those of the AFL or its clubs