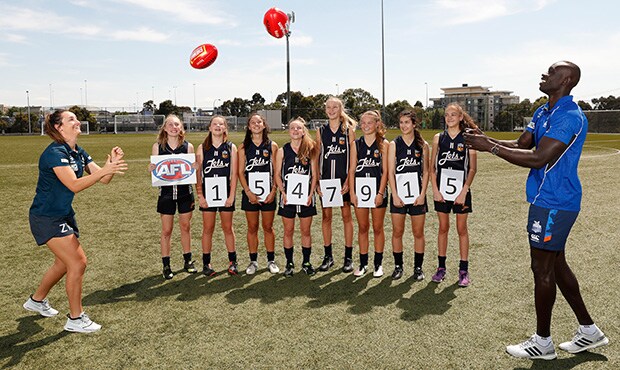 The AFL has announced that participation across all levels of Australian Football has reached a record high of 1,547,915 in a year that saw the introduction of the NAB AFL Women's competition.
All States and Territories saw an increase in overall participation, with the total number of participation rising 10.24 per cent from 2016.
AFL General Manager of Game Development, Andrew Dillon, was joined by Carlton NAB AFL Women's player Nicola Stevens and North Melbourne's Majak Daw at Maribyrnong Secondary College to announce the 2017 numbers.
"The participation in Australian Football has risen by 10.24 per cent this year and the NAB AFL Women's competition has played a key role in contributing to that growth," Mr Dillon said.
In 2017, the total number of female participation across all levels of Australian Football increased by 22 per cent to 463,364. Female participation now reflects 30 per cent of all participation and has seen 1,690 female teams created in 2017, an increase of 76 per cent from 2016.
"We knew AFLW would have an incredible impact on women playing the game as it provides an opportunity to aspire to; and the standout is the huge 76 per cent increase in the number of female community club teams in playing in 2017.
"NAB AFL Auskick continues to be our marquee program with over 200,000 boys and girls being introduced to the skills of Australian Football nationally and enjoying a two per cent increase year-on-year.
"All states and territories have had growth this year, and this is demonstrated through constant growth in community club participation reaching over 371,000," he said.
Mr Dillon said international participation had also enjoyed an incredible increase of 25.19 per cent in 2017.
"Internationally we have now reached a record high (170,744) number of participants, with our first Toyota AFL Premiership Season match played in Shanghai having impact in China.
"Growth in our game comes down to the people who make it possible for those to take to field - the countless volunteers, coaches, parents and administrators – and I'd like to thank everyone for their contribution in this record number," Mr Dillon said.
The overall participation number excludes players from the 18 AFL clubs but does include state league competitions.
The AFL would like to acknowledge its partners and the Australian Sports Commission for their support in growing the number of Australians playing Australian Football.
The views in this article are those of the author and not necessarily those of the AFL or its clubs