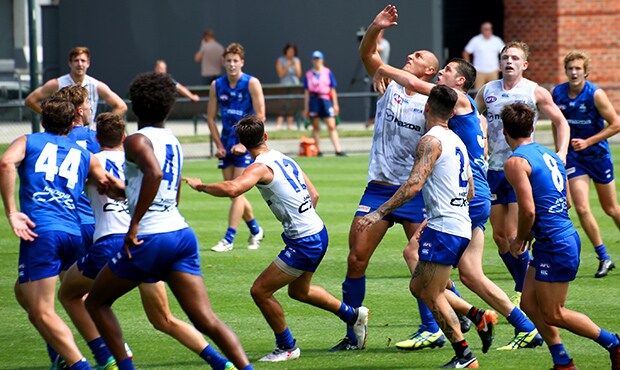 It has become an annual event; the grudge match between North's 'city slickers' and 'the boys from the bush'.
Although Melbourne's heat threatened to take the sting out of the intra-club clash on Friday afternoon at Arden St, from the get-go it was obvious that neither side was going to taking a backward step.
"There were some words before the game to take it a little bit easier this year," Hrovat said as he fronted the media.
"It's always tough when you play yourself, you want a good hit-out but you don't want to cop any injuries, and that's what we've got today so we are happy with it."
For the 'boys from the bush', Robbie Tarrant set the tone early with some massive spoils and hits, while Mason Wood kicked their first goal and Kayne Turner gathered plenty of the footy in his first competitive hit-out of the year.
Of the new faces, Billy Hartung started strongly and found plenty of space on the wing, while youngster Luke Davies-Uniacke looked more than comfortable through the midfield.
"There's a reason why he was at pick 4, he's been superb over the summer and he has fit in seamlessly," Hrovat said.
"He'll be ready to go"
There was plenty of focus on Majak Daw, who took several strong marks in his new defensive role for the city side.
Todd Goldstein and Braydon Preuss faced off in the ruck in what proved to be one of the fiercest contests on the ground.
"It's not every day you have two premier ruckmen at the club.
"Todd is obviously well established but Braydon is up and coming, and to have both of them up and firing is going to be a real weapon for us."
Ben Jacobs was a welcome sight and he didn't waste any time re-establishing himself as a tagger despite being given an almighty task on Ben Cunnington. As to who took the chocolates - well Jacobs could claim bragging rights early, but Cunnington evened things up with a dominant period in the second term. The 2014 Syd Barker Medallist also played forward with great impact, kicking two goals and setting up a teammate for a third in the space of two minutes.
A constant threat in the air, Nick Larkey plucked two strong marks early in the third to break a half-time deadlock while Ben McKay and Sam Durdin were just as influential in defence, quelling the influence of Ben Brown.
Also prominent down back was rookie Tom Murphy, who had an impact in the contest and running out of the back half.
Jy Simpkin's amazing courage often brought a gasp from onlookers, with the youngster having no trouble setting into his new midfield role.
"Jy looked really good in that midfield role today," Hrovat said.
"He's obviously a guy who's played time in the forward line and is looking to play more midfield time this year.
"Jy and Luke (McDonald) bring a different dynamic to our midfield compared to Cunnington and Ziebell, and working together those boys can create a really formidable midfield group.
"Those boys are playing some really good footy at the moment and it's really exciting to watch."
Simpkin and Jack Ziebell combined on several occasions; one play in particular saw the captain dish a handball, before Simpkin pin-pointed Shaun Atley in attack some 50 metres further up the field.
Josh Williams impressed at times and was seen sprinting off half-back, delivering inside 50, and even found himself on the end of a country-side chain for a goal from the square in the premiership quarter.
Nice vision from Waitey to find Ats in the corridor, but an even better finish from Josh Williams. #NMFC pic.twitter.com/oCnOS5UNgp

— North Melbourne (@NMFCOfficial) February 9, 2018
While the country team eventually stretched the lead and had a solid win, it wasn't because of Luke McDonald's lack of effort.
Playing through the midfield, he drew praise from teammate Hrovat after the game.
"It's always hard to pick out someone when you're playing, but Lukey McDonald looked really good.
"He's had a really good pre-season in the midfield and is playing some great footy at the moment."
While Country came out in front at the final siren, there were plenty of positives on both sides of the ledger.
Now, after months of hard work, it's on to AFLX, the JLT Community Series, and barely a month and a half from now, Round 1.


Jy Simpkin impressed again in a midfield role.

Ben Jacobs began in a tagging role on Ben Cunnington, and had the best of Cunners early.

Cunnington worked his way on top in the second quarter, kicking two majors.

Nick Larkey took some strong marks, and kicked a couple of nice goals.

Braydon Preuss climbs high in one of many battles with Todd Goldstein.

Luke Davies-Uniacke impressed many onlookers in his midfield role.

Luke McDonald was one of the standout performers on his birthday.

Majak Daw uses his athletic ability in his new defensive role.

Billy Hartung was ever busy, racking up plenty of disposals.
The views in this article are those of the author and not necessarily those of the AFL or its clubs