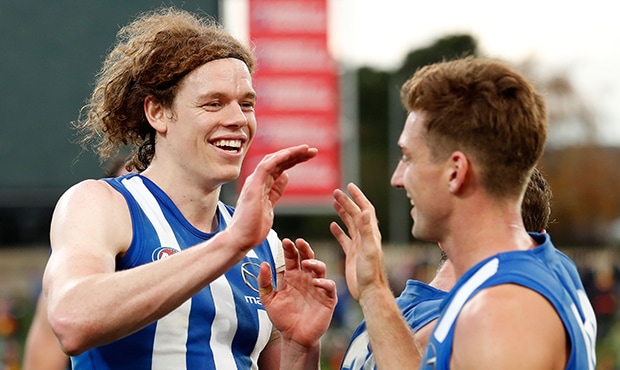 He had a career-best season last year, but Ben Brown knows he can go to another level.
The North spearhead booted 63 goals to finish third in the Coleman medal race after the home and away season, and is working on adding more strings to his bow.
"… I want to get to the point where I am one of the best players in the competition," he told News Limited.
"There are always defenders who have got some new tricks and you are always forced to pull out some new tricks of your own and you have got to work hard on these.
"I am looking forward to the challenge I like to think that I'm a person who loves that about the game."
But it's not all about Brown.
"… I am also really conscious of the team around me and we are really focused on driving towards team success."
The key forward's focus also on his home state, Tasmania, and the state of football following the absence of Burnie and Devonport from the TSL and the lack of youngsters drafted.
"I would certainly like to see more funding directed towards Tassie footy, as any Tasmanian would," Brown said.
"I feel like we (North Melbourne) are doing some great things and I love being a North Melbourne person who gets to play footy down in Tasmania and I think the Tasmanian people have really embraced North Melbourne, but it doesn't stop there.
"I really want to see more Tasmanians drafted and more of a pathway for that to happen and for me that involved moving to Victoria and chasing my football dream.
"I'd love to see Tassie footy grow to the point where Tasmanians feel like they can get drafted out of Tasmania, without having to move away from home."
The views in this article are those of the author and not necessarily those of the AFL or its clubs