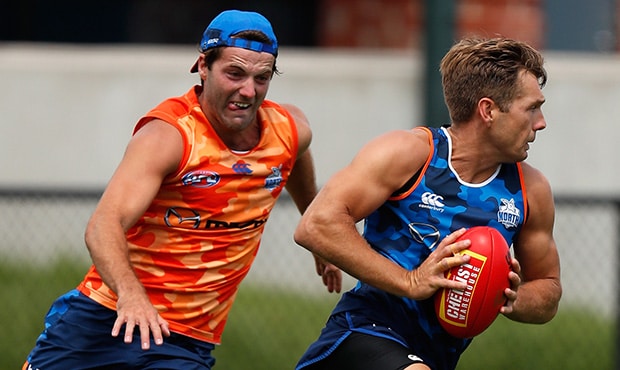 North Melbourne has announced its 15-man squad set to take the field this Friday night in the inaugural AFLX competition.
Highlighted by the likes of Shaun Higgins and Ben Cunnington, North's squad boasts a mixture of youth and experience, which is set to excite footy fans.
So which attributes of these 15 men will hold them in good stead?
Majak Daw
After spending much of the pre-season training as a defender, Daw could find himself playing as a forward, backman or ruckman throughout the tournament.
Daw's versatility is set to be a valuable asset to North's coaches, as they look to cover as many positions as possible given the reduced number of players.
The 26-year-old's height, build and unique athleticism will see him impact contests in the air and on the ground, and play an important role for his team.
Shaun Higgins
Higgins' efficient disposal and all-around class will be a big strength for his side, as teams will look to limit turnovers in this fast-paced format.
The ability to retain possession will be important in the dying stages of each half when fatigue begins to set it in, and Higgins' high-quality skills will help achieve that.
A member of the four-man leadership group, his guidance and experience will be needed in the absence of Jack Ziebell and Robbie Tarrant.
Luke Davies-Uniacke
In his first taste of AFL football, Davies-Uniacke will enjoy the run at Etihad Stadium.
The 18-year-old's disposal is a strong asset of his game, and North fans will enjoy getting a first glimpse of the new number 9.
Ben Cunnington
Experience midfielder Cunnington's strength over the football and elite handball skills will be important in creating moves forward for his side.
Having played 165 games, Cunnington's maturity is set to assist his younger teammates who are yet to experience the intensity of the game's highest level.
Luke McDonald
The booming left foot of defender Luke McDonald gives him the ability to turn defence into offence in an instant.
This attribute gives his side the ability to catch the opposition off guard and gives his forwards a good chance at taking an uncontested mark in-front of goal.
Having experimented with a move higher up the ground this summer, North coaches will also have the luxury of being able to shift McDonald into the midfield if need be.
Jy Simpkin
Simpkin's electrifying style of play caught the eye of North fans in 2017 and there is little doubt that Friday night will be any different.
His pace and agility can cause headaches for opposition defenders, and potentially opposition midfielders, after spending some time in the middle this pre-season.
North's coaches, once again, will be able to experiment with their midfield structures given the added depth of midfielders on hand.
Paul Ahern
After missing the entire 2017 with a knee injury, North fans will finally be able to see Ahern in action.
Ahern's mixture of speed and endurance will see him have no issue running-out the high-intensity matches.
A high accumulator of the ball, he has no problem finding the footy, and is reliable by foot which is priceless in any form of the game.
Shaun Atley
With endurance often singled out as a key feature of a good AFLX player, there's no surprise Atley was selected in the squad.
The defender-turned-midfielder's running ability is set to hold him in good-stead on Friday night, given he should have no issue making it through the high-intensity games.
Atley's line-breaking ability off half-back will be valuable in turning defence into attack and creating scoring opportunities for his side.
Sam Durdin
Key defender Durdin is set for a big task on Friday, with the 21-year-old likely to be entrusted with keeping a number of opposition big-men quiet.
Durdin is strong overhead, allowing him to take intercept marks in defence and end any opposition attacks.
Also good below his knees, Durdin can impact the game once the ball hits the ground.
Jarrad Waite
Waite's ability in front of goal is set to help his team kick a winning total in what many expect to be a high-scoring affair.
Waite's ability to push up the ground and take a strong contested mark is likely to give him plenty of opportunities to kick a 'zooper goal'.
Despite being the squad's most senior player, don't underestimate the impact Waite could have on AFLX.
Braydon Preuss
Ruckman Preuss' kicking has been well publicised this pre-season, and will be put to the test on Friday night.
Preuss' ability to kick the ball the length of the ground is certainly a unique trait, and one that will no doubt come in handy for North.
The 22-year-old's size and strength is sure to cause havoc in the ruck, and he is likely to give first use to his midfielders.
Jamie Macmillan
Macmillan will provide an experienced presence in defence on Friday night, as he is set to captain North alongside Higgins.
A strong rebounding defender, Macmillan will be able to move the ball up the ground quickly, and relieve the pressure on his fellow defenders.
Likely to be handed the task of keeping a close eye on a small forward, his hunger and determination will assist him in minimising the impact of his opponents.
Billy Hartung
Elite runner Billy Hartung will be looking to exhibit his strong pre-season form to the footy world in a format perfectly suited for the winger.
Hartung, who won North's 'Yo-Yo test' and 2 kilometer time trial this summer, will have no issue running-out the full duration of the games.
The recruit is a large accumulator of the footy, and will no issue working his way into the game.
Gordon Narrier
The fast-paced rookie from Western Australia will look to show-off his pace in the non-stop AFLX games on Friday night.
Narrier, who has already caught the eye of North fans, is set to be a fan-favourite on the night.
Pace isn't the only thing he has in his arsenal, with a damaging left foot capable of kicking a goal or two.
Cameron Zurhaar
Powerful small-forward Zurhaar will look to make an impact on the scoreboard in Friday night's matches.
Zurhaar, who is capable of winning the ball on the inside and finishing-off opportunities in-front of goal, could be very dangerous in North's forward line.
The views in this article are those of the author and not necessarily those of the AFL or its clubs