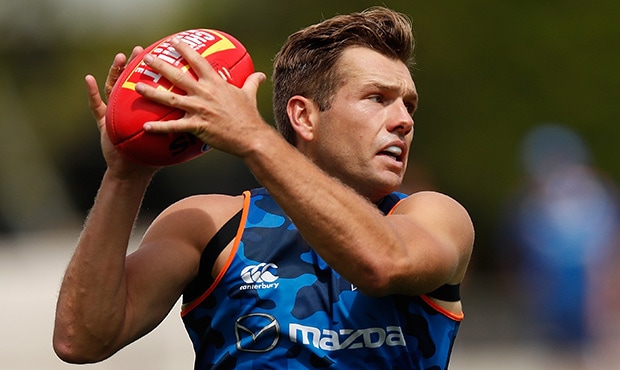 North veteran Shaun Higgins is excited to see what his younger teammates can produce on the big stage in Friday night's AFLX tournament.
Higgins, who was named co-captain along with Jamie Macmillan, is one of 15 players who will represent North in the maiden competition.
"There's a few young guys excited by the prospect of playing in-front of what should be a decent crowd at Etihad," Higgins told RSN.
"I think any opportunity for young guys to play … after coming out of the Under 18 competition, is exciting for them."
The experienced midfielder is looking forward to seeing the likes of Paul Ahern donning the royal blue and white stripes for the first time, and finally getting the chance to show-off his class to the football community.
"Pauly has had two knee reconstructions and had a really tough year last year given that he wasn't going to play any football at all," Higgins said.
"He's fitted into the club extremely well and has had a really good pre-season, and I think he'll be a smooth-moving midfielder who can go through the centre square, but I think that he may find himself at half-forward, on the wing or at half-back at the moment.
"It's just a great story for him to come back after two knee reconstructions.
"He's a top ten draft pick for GWS, so he's clearly got some talent, and we're excited for what Pauly can do for the footy club not only this weekend, but in years to come."
The 29-year-old is expecting to see some of his other teammates to make an impact in the high-octane format.
"I don't think your standard top players in the AFL are necessarily going to be the standard top players in AFLX," Higgins commented.
"Guys like Shaun Atley, who has had a really encouraging pre-season and finished off the year well last year, looks primed for AFLX."
As for Higgins himself, he is looking forward to featuring in the competition, believing it will be a nice step in his Round 1 preparation.
"I was keen to play because we were one of the two clubs that trialled it last pre-season and I really enjoyed it," Higgins added.
"I didn't want it to compromise the lead-up to Round 1, but given I've had a full pre-season and I'm feeling good, I think it's a nice stepping-stone into the JLT."
"The hard work's still to come in the season, but the key is that opportunity it gives you to hopefully perform at your best."
The views in this article are those of the author and not necessarily those of the AFL or its clubs