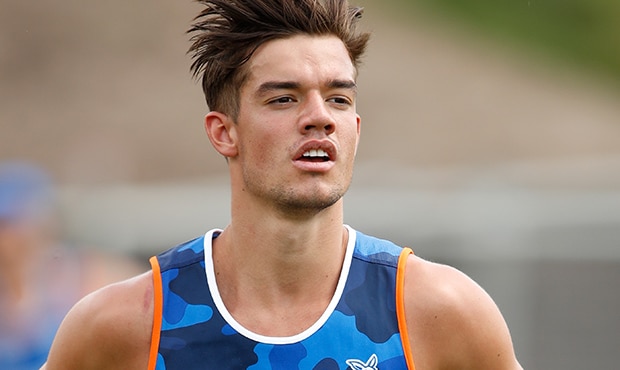 Jy Simpkin is likely to miss between two and four weeks of football after injuring his ankle following an accidental collision with a motorcyclist, while on foot.
The 19-year-old had been drinking and stepped into the path of a motorcyclist while crossing the road in West Melbourne early on Sunday morning.
The club has been informed the motorcyclist was not seriously injured in the accident, but scans have revealed Simpkin suffered grade-two lateral ligament damage to his ankle.
GM of football Cameron Joyce said the club would not accept irresponsible behaviour from its players.
"We are disappointed with Jy. He had been drinking and unfortunately, he wasn't as alert to his surroundings and as careful as he should have been," Joyce said.
"Jy didn't see the motorcyclist and stepped out in front of him and the accidental collision occurred.
"He is very lucky no one was more seriously hurt."
Today, the club met to discuss the incident and in consultation with Simpkin, the following will take place:
* Simpkin will donate $2,000 to Road Trauma Support Services
* Simpkin has instigated a minimum six-month, self-imposed ban on alcohol (at least until season's end)
* Simpkin will undertake an educational course that deals with making better choices and dealing with alcohol
Police have indicated they will issue fines to Simpkin for being drunk in a public place and for crossing the road on a red light.
The club will make no further comments.