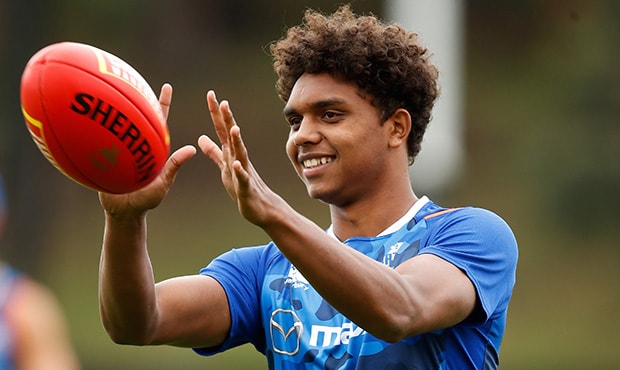 From the small Western Australian town of Northam to playing in-front of 20,000 fans at Etihad Stadium in AFLX; it's safe to say the last three months have been a whirlwind experience for rookie Gordon Narrier.
For Narrier, playing in-front of a crowd almost three times his hometown's population was a surreal experience, and one that will hold him in good stead down the track.
"It was pretty amazing," Narrier told North Media.
"Being on Etihad for the first time with such a great crowd and atmosphere was exciting.
"20,000 people is the biggest crowd I've ever played in-front of.
"You don't get those kinds of crowds back where I'm from. It was a big change that's for sure."
Drafted from the Perth Demons in November, playing in-front of a crowd that size with in-stadium commentary and illuminate goal posts meant the 19-year-old had to make some quick adjustments to his game.
"It was pretty hard to hear your teammates out there," Narrier said.
"You've got to really concentrate on everything, with the main thing is being as loud as you can.
"I realised that if you're not loud enough your teammates aren't going to hear you.
"It was pretty hard to keep focused and keep my head in the game, but it was a great experience."
For the small-forward, it wasn't just the thousands of fans he was excited to play in front of, he also knew his parents would be watching.
"Yeah my family were watching back home," Narrier said.
"They were just watching on TV and I'm pretty sure they were excited and proud that I got a run around.
"It was exciting to go out there knowing your family is watching back home."
Narrier's teammates were quick to support the speedster in the lead-up to the tournament, with defender Luke McDonald eager to lend a hand.
"Luke McDonald told me that it is just a small taste of what you'll get when you play at AFL games," Narrier revealed.
"He said 'just to take it in and do as well as you can'.
"The boys told me that it's AFLX, so run, get forward, try to kick some goals and enjoy yourself as much as you can."
It was also the first time Narrier got to test his skills against some opposition stars, which was a new challenge after spending the summer taking on his teammates.
"Playing against other AFL players was a big step-up," Narrier commented.
"We've obviously got other AFL players here, but when you play against other clubs it's a bit more competitive and it was definitely an eye-opener."
From here, it's important for Narrier to learn from the experience, and refine his game to ensure he's in the best possible position to play when next selected.
"I sat down with Deaks (David Loader) and he told me just to run as much as I can," Narrier added.
"I've been focusing more on the structures and setting up too.
"I think that's the big thing for me, just learning all the structures, and learning where i'm supposed to be.
"There's a couple of different roles I might play, so it's about learning the different roles as well.
"Mason Wood and I had a good chat about everything after training, so that definitely helps me out."
Narrier has been named in a 30-man squad for this weekend's JLT Community Series opener.
"I'll fly down to Tassie, and anything can happen, but hopefully we get the win," Narrier said.
"I'm excited to be travelling with the team, and going down to Tassie will be a good experience as well.
"We're a pretty tight group here, so wherever it is, I think we'll be all good."
Already a hit amongst North fans, it will be exciting to see Narrier develop throughout the year.
The views in this article are those of the author and not necessarily those of the AFL or its clubs