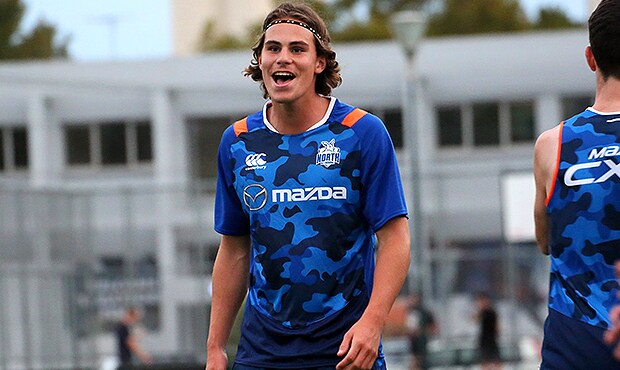 Tasmanian footballer Nic Baker has been given a great opportunity to impress in the royal blue and white this weekend.
The quietly spoken 18-year-old will fulfil a childhood dream when he runs out onto the hallowed MCG turf on Saturday morning.
Baker has been named in North's 25-man squad that will face the AFL Academy in a curtain-raiser.
Playing at such an iconic ground is something every footballer aspires to achieve, and as Baker quickly affirms, it's exactly where he wants to be.
"I started off [playing] when I was about six or seven in Auskick. Ever since then, I've just played every year. Got to play with the Tassie Mariners and now I'm here," Baker told North Media.
"I could not ask for a better opportunity. It's just the best opportunity for me, where I want to be and where I want to go for a bloke my age."
The dexterous Tasmanian, who aspires to be drafted this year, is hopeful that the practice match will offer him a chance to showcase his aggressive running style off the half back flank.
"I feel like I've got quite a large tank to run with and run in off half back," Baker said.
"My decision making under pressure has improved, I base my game around that sort of style."
Despite being a confirmed addition to North's VFL squad for Saturday's match, Baker admits that the enormity of the opportunity hasn't quite sunk in.
"It's going to be surreal. It's going to be one of the best moments I'll have, I reckon."
Baker is affiliated with TSL Club, Lauderdale.
Fans are invited to attend Saturday's practice match, with the first bounce at approximately 11.05am.