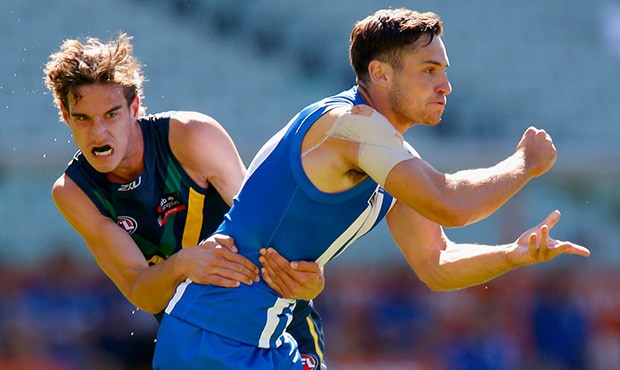 A loss is never a good result, however for North's VFL side, Saturday's defeat may have come at the perfect time.
On the eve of its inaugural season this weekend against Northern Blues, coach David Loader says he will look to fix the holes in his side's game after receiving a wake-up call against the AFL Academy.
"We probably walk away from the game a little bit wiser on what we can and can't do with the group at this point in time," Loader told North Media.
"[The players] got a real reality check, and were given an opportunity to compare themselves against the best kids in the country.
"Even though we didn't get the result we wanted, there's still some positive stuff to come out of it as we spoke about after the game."
Loader took advantage of the side's final practice game to experiment with the style of play and some of the team's structures.
"Our focus is still on the amount of things that we can learn out of this game," he said.
"We were still in practice match mode, so we tried a few things that worked for us, and we tried a few things that didn't work for us.
"We've got to be a little bit better with some of our structure stuff, as well as knowing when to attack and when to defend.
"We probably didn't take the opportunities that presented themselves today. We're still working through some of balance stuff, how heavily weighted we are with talls and smalls.
"All those sort of things are going to assist us as we move forward."
One positive was the progress of defender Sam Wright, who completed a full match after playing just a half against Collingwood the week before.
Wright was awarded the medal for North's best-on-ground performance, and showed strong leadership out on the field.
"It was great to see Sam Wright get through a full game and pull-up ok and play reasonable footy," Loader said.
Wright was happy with his return, however the 27-year-old believes he needs a bit more time to find his feet before he puts his hand up for AFL selection.
"I was best-on-ground in their eyes, but I've definitely got a lot to improve on," Wright said.
"We move onto next week, but the good thing is that I came out of it unscathed, so that's the most important thing."
"It's going to take me a while.
"Some of those 17-year-olds can really move, so that change of direction really tested me early.
"I've still got to find form. I know I got the medal today, but it could have gone to anybody. I just need to keep working on things and get back into the swing of playing footy."
The views in this article are those of the author and not necessarily those of the AFL or its clubs