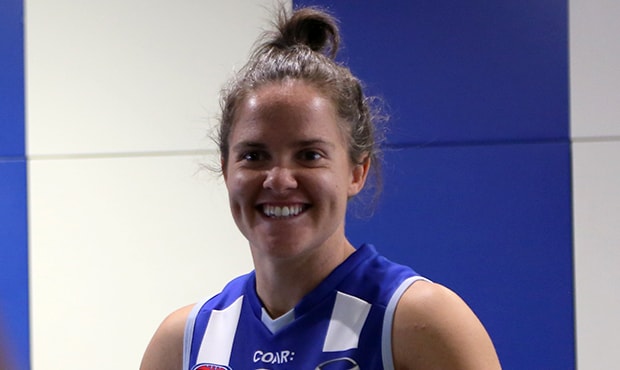 AFLW Coach Scott Gowans is excited by the depth of talent available to North Melbourne ahead of its inaugural season.
Having already secured the competition's best player in Emma Kearney, the club is now looking to further strengthen its list, and Gowans believes the standard is a good as ever.
"Just a simple stat like the amount of marks taken in the competition has tripled and the way that they [female talent] kick the ball, you can see that the ball movement has improved," Gowans told North Media.
"I had the privilege of coaching VIC Country last year and before that with the Dandenong Stingrays' girls team and just watching the TAC this year, the standard has increased so much.
"You just shake your head, left and right foot some of them, it's amazing."
Returning from a few days in Tasmania, Gowans was impressed by the level of skill and increased participation over the past few years.
North has stated it wants half of its AFLW team made up of Tasmanian talent within the first few years.
"It's just exciting to see the level of talent grow compared to what I saw two or three years ago," Gowans said.
"The level of coaching and the programs they're running down there are starting to mirror what's up here in Victoria and that's our goal; to resource that as much as we can so that the growth continues.
"It's just such an exciting time to be involved in both Victoria and Tasmania."
Gowans said competition for spots will only become more fierce as the talent pool continues to develop.
"The girls are very aware of other talent coming through the competition and they know their spots aren't safe if they don't perform," he said.
"Maybe last year there were a few girls who were lucky to get games, but as we just saw in the last season, there are some very talented women who didn't get the opportunity to play."
With North and Geelong entering the competition, Gowans is confident plenty of players will follow Kearney's lead and switch clubs.
"Girls want to play and if they are on the cusp of another team and are unsure of their chances to get a game, then we will see the movement," he added.
"Two new teams entering the competition creates even more opportunity for talent breaking into then competition and existing talent in the competition."
The views in this article are those of the author and not necessarily those of the AFL or its clubs