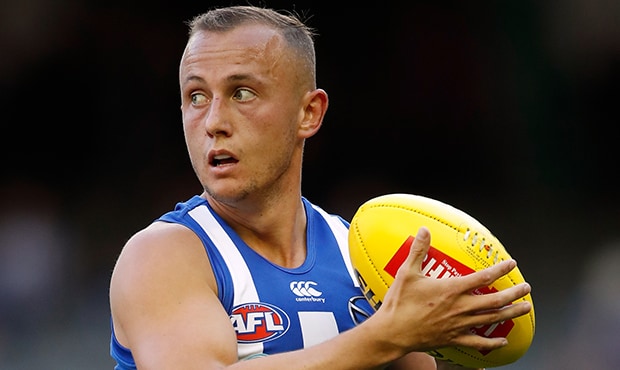 Midfielder Billy Hartung says he's extremely grateful for the opportunity presented to him by North Melbourne, and the added responsibility that has come with it.
"It's been a really positive start since I arrived about six months ago. It was a little bit daunting starting at a new club, but all the boys have made it really easy," Hartung told Kane Cornes on SEN.
North's new line-breaking wingman told Cornes that while he was disappointed with his exit at the Hawks, he is loving his role at a new club.
"I am really enjoying the opportunity at North, and being a young team that is giving me added responsibility, which is good for me," Hartung said.
One of the major factors that Hartung is enjoying at his new club is the culture, and in particular the "Shinboner Spirit."
"The Shinboner Spirit really is the culture of the club," he said.
"When I arrived it was the first thing they mentioned and they really drilled it in, and for good reason.
"It's there every time they play footy, and you really embrace it."
"Past players come into the club and explain what it means to be a Shinboner, and the leadership group make it pretty clear as well.
"It's a big part of our footy club."
Ahead of a huge clash in Hobart on Saturday, Hartung is under no illusions as to what's at stake, and what Carlton is capable of.
"We have a good opportunity this week against Carlton, but they have shown how good they can be at times this year," he said.
"They move the ball really quick at times, so that's going to be a challenge for us. We are going to have to be ready for that."
"We are up for a contest."
And the North #39 is hoping some of his team mates can take their recent form into the blockbuster clash.
"Majak was unbelievable for us on the weekend, and that form carried across from a great VFL game he had played the week prior."
"We are hoping he can play at a higher level of confidence each week because we know what he's capable of."
"Ben Jacobs is another who has been a really welcome addition back to the team this year.
"He's played some really strong roles this year, and hopefully he can do it again on Saturday."
Heading into the game with a chance to go 2-2 after four games, Hartung says that the Roos are in with every chance.
"We have been in every game, even against Gold Coast and Melbourne we had periods on top, so hopefully we can fix those things up and get the win this week."