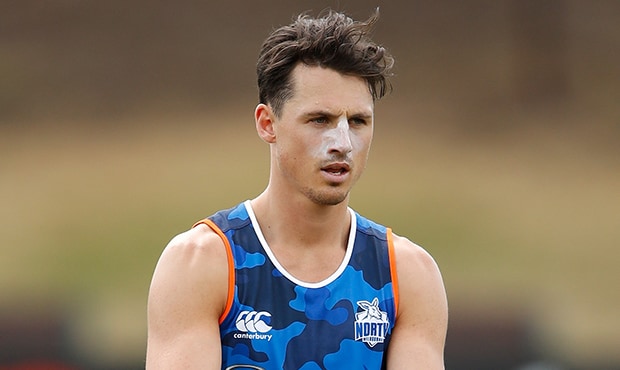 When your journey back to the AFL is as long and challenging as Ben Jacobs' was, you need to believe.
Jacobs, who was initially struck down with a foot injury in Round 8, 2016, has only recently returned to AFL action, with this weekend's clash against Carlton his fourth outing in almost two years.
The physically and mentally challenging stint on the sidelines was elongated because of an unsuccessful operation on his broken right foot.
"We were pretty much trying to put the pieces back from that initial surgery for the past two years," Jacobs told The Age.
"We didn't have the screw in far enough. The crack never healed properly.
"In hindsight we would have done it differently, but that's why hindsight's so good."
Despite being disappointed about requiring surgery following Round 8, 2016, Jacobs was optimistic about returning to the side in time for what had the potential to be a successful finals campaign.
"I thought I was coming back for the finals in 2016 and failed to do that, and then my mindset was like, 'Oh brilliant, I get to have a full pre-season', and I never got that, and then it was, 'At least I can play in season', and I never got that either," he said.
Ultimately, it has required three more foot surgeries in the lead-up to Christmas last year to get the 26-year-old to where he is today.
Jacobs wasn't alone in the often isolated rehabilitation group, with defender Sam Wright joining the midfielder for much of his time on the sidelines.
In what has proven to be a revolutionary move by North's medical staff, both Jacobs and Wright worked closely with Sue Mayes, the physio for the Australian Ballet.
"We got in there and realised how poor [our calf strength was] compared to the ballerinas," Jacobs said.
"It made us get over that we were working with the ballet. It didn't take much to see immediate results."
Almost two years after suffering his initial injury, Jacobs has picked up from where he left-off, returning to North's senior side to become a staple of its midfield.
With question marks over the role of a tagger in the modern game, Jacobs has proven there is still a place for run-with players in 2018.
After minimising the impact of Seb Ross and Clayton Oliver in the past two weeks, Jacobs is loving his football.
"I'm just enjoying rolling out each week," he told Fairfax Media.
"I went from being one of the youngest in the team to two years down the track and I'm one of the senior players.
"It wasn't meant to be that long obviously. It didn't go to plan. But I always had faith I was going to get back at some point."
The views in this article are those of the author and not necessarily those of the AFL or its clubs