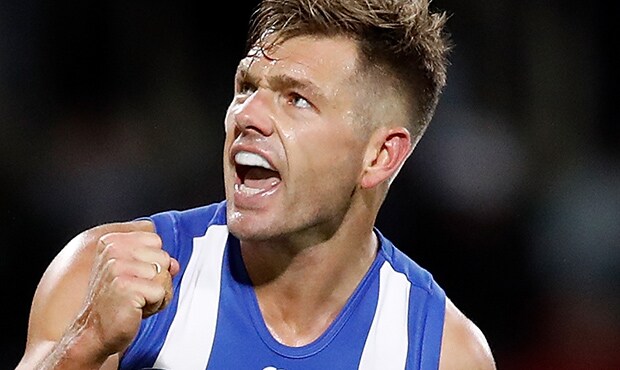 Simply by voting for North's top three players each week, you could win a North signed guernsey or tickets to the Syd Barker Medal.
Thanks to our major partner Mazda, the Mazda Excellence Award will again recognise the Roos' standouts in every game, with votes compiled to find one winner at the completion of the 2018 season.
Vote for your 3-2-1 after each round and you'll be in the running for the prizes.
Our overall winner will also present the trophy to the player who receives the Mazda Excellence Award at the 2018 Syd Barker Club Champion Dinner.
Who gets the nod? Register your votes via the form below and return every week during the 2018 season to make your opinion count, and you'll be in the running.
On a mobile or can't view the form below? CLICK HERE TO VOTE
Voting for this round closes on Tuesday, April 24 at 5pm EST.
3. Jed Anderson
Anderson's toughness in the middle has been a welcome addition in recent weeks, with the number three freeing up Jack Ziebell to spend more time forward.
He had 23 possessions and laid 5 tackles in one of the best games of his short career.
4. Shaun Higgins
Higgins tallied his second-highest disposal figure of his career, with 35 for the night.
He was strong at the contest, with 17 contested possessions, had 11 clearances and kicked a goal in a memorable night.
5. Ben Jacobs
Jacobs claimed another scalp, keeping the Blues' Patrick Cripps relatively quiet throughout the night.
He laid 7 tackles on the night.
16. Scott Thompson
The experienced defender has been in terrific form so far this year, registering a career-high 15 marks, to go with 25 disposals against the Blues.
18. Shaun Atley
The defender-turned-forward kicked a career-high 3 goals in the victory, also tallying 22 possessions in an impressive display.
39. Billy Hartung
The former Hawk has been one of the Roos' best in the opening four rounds, this week tallying 24 disposals, 5 inside 50s and a terrific running goal.
50. Ben Brown
It's been a brilliant start to 2018 for Brown, who sits second in the Coleman Medal race.
On his return to his home state in Tasmania, North's number 50 booted 5 goals.
(function(t,e,s,n){var o,a,c;t.SMCX=t.SMCX||[],e.getElementById(n)||(o=e.getElementsByTagName(s),a=o[o.length-1],c=e.createElement(s),c.type="text/javascript",c.async=!0,c.id=n,c.src=["https:"===location.protocol?"https://":"http://","widget.surveymonkey.com/collect/website/js/tRaiETqnLgj758hTBazgd_2FqFBEsUgQ_2FpvkB9_2B9qEbYhzvY65_2BklFSaJdBsIVs0hE.js"].join(""),a.parentNode.insertBefore(c,a))})(window,document,"script","smcx-sdk");