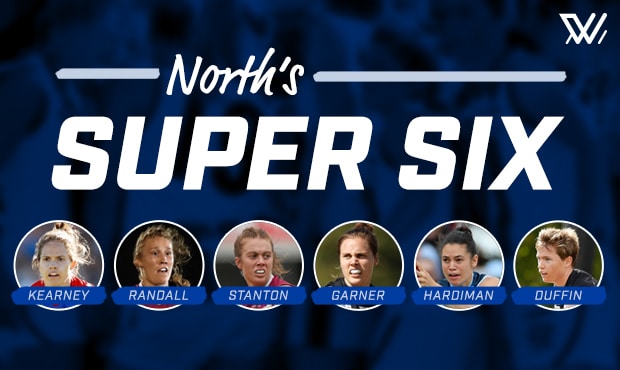 Follow North Melbourne's AFLW social media channels - Facebook | Twitter | Instagram
The North Melbourne Tasmanian Kangaroos has acquired one of the strongest lists in AFLW history, with several of the competition's superstars making the move to Arden St.
Joining the league's best player, Emma Kearney, is Jasmine Garner, Jamie Stanton, Jess Duffin, Tahlia Randall, Danielle Hardiman, Jenna Bruton and Katherine Gillespie-Jones.
The talented line-up boasts a host of accolades including league best-and-fairests, club best-and-fairests, premiership players, All-Australians and cross-code athletes.
Our brand new signings couldn't be any happier to be on-board, and we couldn't be any happier to have them here!

Read all about our signings here 👉 https://t.co/z2xOEcujMO

Get your AFLW Membership here 👉 https://t.co/ssNLdt0Xc6 #OurTimeIsNow pic.twitter.com/DxRbFzBxhN

— North Melbourne AFLW (@NorthAFLW) May 11, 2018
Maddison Smith is another key signing for the Roos as the first Tasmanian-born player to officially join the club. Smith was identified at North's AFLW Talent Search earlier this year, where she impressed with her ball use, strength and power. After catching the eye of recruiters, she went on to kick nine goals in her first Tasmanian State League Women's (TSLW) game for Clarence.
Smith's signing comes off the back of the club's stated aim to have half of its playing list fielded by talent from the southern-most state in the coming years.
North AFLW coach, Scott Gowans, thrilled with the quality of the list.
"We wanted to go into our first year and have a real impact on the competition and I strongly believe we have built a list that will do exactly that," Gowans said.
"We were diligent in securing some of the competition's most elite talent, and we wanted to build a side that could work together and complement each other.
"Building a quality side with a lot of depth is really important and I think the calibre of talent we have secured so far is a reflection of that.
"These players will enhance the culture at the club and embrace the famous Shinboner Spirit."
North will announce additional signings over the course of the 10-day AFLW expansion signing period which begun on May 11.
Emma Kearney (Western Bulldogs)
165cm - Midfielder
Highlights
Having been awarded the 2018 league best-and-fairest, club best-and-fairest and winning the Premiership, Kearney is by far, the best player in the competition.
Kearney has long ties to North from her early playing career with Melbourne University Women's Football Club (MUWFC), where she won five best-and-fairest awards and served as captain.
The 28-year-old's list of achievements is phenomenal, and the dual athlete (cricket & football) will play a vital role for the Roos.
The two-time All-Australian has also taken up a role as sport and recreation co-ordinator with North's award winning not-for-profit education arm, The Huddle.
"Emma has an elite ability to accumulate the football around the ground as well as being a dominant stoppage player. She plays with genuine intent and ferocity," North AFLW list manager Rhys Harwood told North Media.
"She will add tremendous leadership and experience to the club both on and off the field."
Jasmine Garner (Collingwood)
175cm - Forward


Highlights


Interview
Garner will bolster North's forward stocks after committing to the royal blue and white stripes.
The 23-year-old started her football journey in Melbourne's inner-western suburbs, earning All-Australian status at junior level while playing for the Yarraville Football Club.
Known for kicking the first goal in the AFLW, Garner is lauded for her marking ability and considered one of the strongest forwards in the competition.
"Jasmine is one of the brightest young talents in the AFLW and will play a key role in the front half for North Melbourne," Harwood said.
"A strong key forward with elite hands, as well as significant ability below her knees for a player of her height, gives her multiple methods to impact as a forward.
"We couldn't be more excited about the further growth in her game in the coming years."
Jamie Stanton (Brisbane)
166cm - Midfielder
Highlights
A dynamic inside midfielder, Stanton boasts an ability to draw the footy in and around stoppages.
The former junior Matilda soccer player has developed quickly since making the transition from the round-ball code.
Stanton spent the first two seasons of her AFLW career with Brisbane, polling second in the club's best-and-fairest in 2018.
The 22-year-old high school teacher averaged 16 disposals, highlighting her ability as an impact player.
"Jamie is particularly strong over the football and possesses a genuine step and good hands in tight, making her a very impactful stoppage player," Harwood said.
"We couldn't have been more impressed with Jamie's on field work-rate, as well as her character and desire to be the best player she can be."
Jess Duffin (Collingwood)
162cm - Forward
Highlights
Interview
An elite athlete, Duffin has been a staple of consistency.
The dual-code athlete (cricket & football) earned recognition as an All-Australian squad member in successive seasons and is held in high regard due to her clean disposal by foot, while also proving to be just as effective in front of goal.
The 28-year-old averaged 13 touches per game, playing across multiple roles in 2018.
"Jess is very strong overhead and in our opinion is that she's one of the best users of the ball by foot and rebounded the ball exceptionally well," Harwood said.
"Jess will bring some real versatility to our list, with capacity to play and impact in all three zones."
No stranger to the big stage, Duffin has also represented Australia in cricket on the international stage, as well as representing the Melbourne Renegades in the Women's Big Bash League.
Danielle Hardiman (Carlton)
175cm - Defender
Highlights
Key defender Hardiman holds a reputation as being amongst the best intercept players in the league.
Also effective on the ball, the 23-year-old rebounded from a serious ankle injury in 2017, which caused her to miss the entire VFLW season. The skilful defender triumphantly returned the following year, playing six matches.
Hardiman started playing footy in Melbourne's outer-south-east and was selected to play for Victoria's under-18 side, despite being just 16.
"Danielle has some real defensive versatility and is able to play both tall and small," Harwood said.
"We think her skill-set is quite rare and we couldn't be more excited to bring a player of her calibre to the club.
"Danielle will really stiffen our defence up, and we feel she is one of the more underrated players in the competition. She also possesses a great left foot and can impact offensively on the way out."
Tahlia Randall (Brisbane)
173cm - Defender
Highlights
A versatile tall, Randall will offer a competitive edge to North in several key areas.
Selected with pick 15 in the 2016 draft, Randall has had a rapid ascension, looking at home in both the ruck and in defence.
The former Queensland volleyballer, who earned a Rising Star nomination in Round 6 of the 2018 season, is seen as a key position player due to her flexibility.
"We have followed Tahlia closely over the past few years and believe she is one of the most promising young key position players in the AFLW," Harwood stated.
"She came across and played a game at MUWFC last year in the VFLW and we were very impressed with her game.
"We envisage Tahlia playing a key role in our defence for a long time. Tahlia reads the ball well in the air, allowing her to win the ball back and intercept mark, and has also shown the ability to play in a lock-down role when required."
Jenna Bruton (Western Bulldogs)
158cm - Midfielder
Highlights
Fleet of foot, Bruton will strengthen North's roving stocks with her clean usage around stoppages.
Selected with pick 11 in the 2017 draft, Bruton was picked on the back of a standout campaign in the VFL, where she gained selection in the VFL Women's Team of the Year.
An ever-present threat with her abilities, Bruton will be a mainstay in North's engine room.
"Jenna's vision and execution in tight is very exciting and will add different look to our midfield group," Harwood said.
"Jenna possesses a genuine step and importantly will be able to rotate through a number of roles.
"We're excited to work with Jenna and were confident she will be a long-term midfielder for us."
Katherine Gillespie-Jones (Carlton)
179cm - Utility
Highlights
Initially a forward, Gillespie-Jones' athletic profile enables her to play in almost every role around the ground, bringing great flexibility to the team.
"Katherine is particularly diligent when playing as a defender and she's genuinely competitive," Harwood said.
"She has shown the ability to impact both aerially and on the ground in all roles she's been tasked with.
"Katherine will be a huge asset off field as well, being renowned for her elite training habits and standards, as well as being an exceptional character."
Maddison Smith (Open-Age Signing)
169cm - Winger
An elite talent, Smith was unearthed through North's talent search across Tasmania earlier in 2018.
After catching the eyes of recruiters, Smith went on to kick nine goals in her first Tasmanian State League Women's (TSLW) game for Clarence.
The versatile forward has also proven efforts on the wing and across halfback.
"Maddie's ball use, strength and power will be a huge asset, and we expect her x-factor and competitive nature to be on show very early on in the season," Harwood said.
"We think Maddy has the capacity to develop into a terrific AFLW player, and it will be very special when she gets to play in front of her friends and family in Tassie."