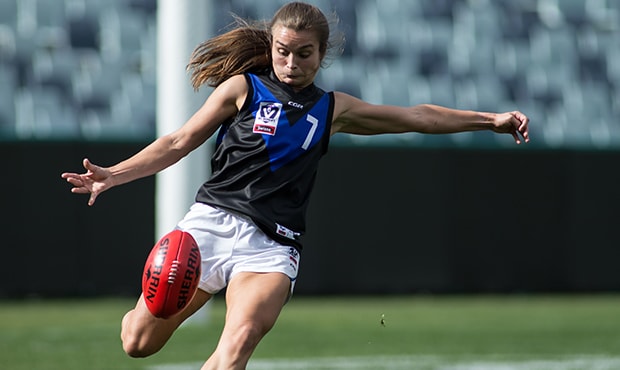 The North Melbourne Tasmanian Kangaroos have secured Ash Riddell, Georgia Nanscawen and Elisha King, further bolstering the club's existing star-studded line-up.
The trio of open-age signings will add another layer of depth to the side.
Riddell, captain of Melbourne University Women's Football Club (MUWFC), was overlooked in the AFLW draft last year despite being named in the VFLW team of the year.
AFLW coach Scott Gowans said the snub has inspired growth in her game.
"She was the only non-AFLW player to be listed in the 2017 VFLW team of the year so it speaks volumes about her talent and determination," he said.
"She's a versatile player with the ability to play inside, on a wing or as a half-forward so she will provide great flexibility."
For ex-Hockeyroo, Nanscawen, Gowans believes her competitive background will hold her in good stead.
"Georgia's had extensive experience as an Australian representative in hockey, so she is well accustomed to the professional lifestyle and demands," Gowans said.
"She possesses incredible speed and agility and will further develop her game in the WAFL this year before making the move to Melbourne."
King, also an All-Australian representative, boasts experience in the AFLW system as a member of the Brisbane Lions training squad.
"Elisha is a genuine rising star highlighted by her selection as an All-Australian representative at 16-year-old," Gowans said.
"She is a classy user of the ball and we think she will be an important player on the wing and half-back."
Riddell, Nanscawen and King join Emma Kearney, Jasmine Garner, Jenna Bruton, Jamie Stanton, Danielle Hardiman, Jess Duffin, Katherine Gillespie-Jones, Tahlia Randall, Brittany Gibson, Daria Bannister and Maddison Smith in the inaugural team.
Ash Riddell (Open-Age Signing)
159cm - Midfielder / Forward
Running machine Riddell, will look to boost the strength of North Melbourne's midfield and forward stocks.
After establishing herself at Diamond Creek, Riddell earned selection in the VFL Women's team of the year.
Captain of MUWFC, the club has high-hopes for the 22-year-old.
"Ash is a ready-made midfielder, with the versatility to play inside, off a wing, or as a half-forward," recruiter Rhys Harwood told North Media.
"She has a great step, elite aerobic capacity, and is terrific user of the ball by both hand and foot.
"Ash's performance and commitment whilst training with Melbourne University this pre-season, as well as her outstanding character, made it impossible not to give her an opportunity and reflects in her being chosen to captain Melbourne University in 2018."
Georgia Nanscawen (Open-Age Signing)
160cm – Midfielder / Forward
Nanscawen has a list of sporting accomplishments that would rival any other in the AFLW.
The second youngest player to debut for the Hockeyroos, while also being the youngest to reach 200-games, Nanscawen is a natural leader.
Despite her limited experience, the 25-year-old has the potential to develop into a key player.
"For someone with a limited footballing background, Georgia couldn't have been more impressive with her tactical skill during her trial here at the club, as well as demonstrating her elite character that has seen her be so successful within Hockey," Rhys Harwood told North Media.
"We think Georgia will develop into a terrific contributor on-field, as well as leading by example off it with her professionalism and experience.
"We can expect to see Georgia's elite agility and speed displayed on-field. Georgia will spend some time developing her craft in the WAFL this year."
Elisha King (Open-Age Signing)
164cm - Utility
A classy distributor, King joins North with the ability to play multiple positions.
An elite junior, King was an All-Australian representative at just 16. The smooth-moving utility is regarded for her capacity to play on a wing or at half-back.
The 18-year-old impressed in her trial with North with her mobility a key strength.
"We felt Elisha was unlucky to miss out on being drafted last year due to injury, and during her trial at the club, she showed some strong athletic qualities that can be hard to find," Rhys Harwood said.
"Elisha spent some time at the Lions this year as a training squad member so she has some experience in an AFLW environment.
"We anticipate Elisha developing into a player who can really aid our ball movement with her skills."