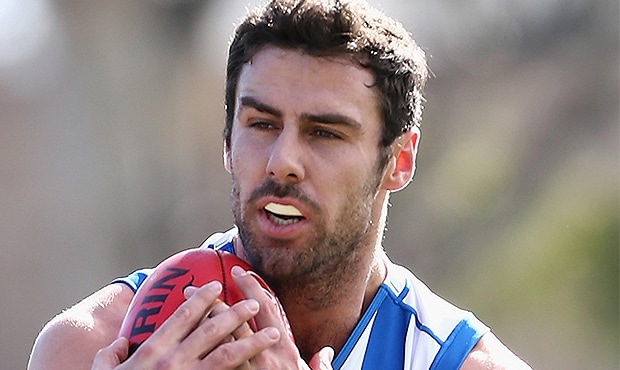 VFL co-captains Chris Jansen and Michael Close are confident the Roos' VFL side can bounce back this week.
North lost by 88 points against Richmond in its Round 6 clash, and faces another tough task against Port Melbourne on Saturday.
"We've gone away from playing to our method in the last couple of games against Essendon and Richmond," Jansen told North Media.
"That's been the most disappointing thing from the last couple of rounds. Just the fact that we're not playing the way we want to.
"We'll look to get back to that this week."
Despite back-to-back losses, Jansen believes that North's emerging list is capable of matching the best teams in the competition.
"I think we've shown in 15 minutes patches that if we play the way we want to, that we can play super footy, be really competitive and beat anyone.
"That was on display, certainly in patches, against Essendon and Richmond. We just need to do that for a bit longer and do it for four quarters. I think this will hold us in good stead."
"We need to focus on the way we want to play. That's the most important thing."
Jansen acknowledged that a method-minded approach will allow North to deal with any changes in momentum.
"We're going to focus on ourselves a little more this week and get the things that we want to do right," he said.
"Obviously, we understand what Port Melbourne wants to do, but let's focus on ourselves.
"There's going to be momentum shifts, but if we can play to our method for close to four quarters, that's going to be a big thing for us.
"We are a young list, but that's no excuse. We're just trying to play good footy and win some games."
Fellow leader Close has led from the front, offering versatility across a number of roles in both the ruck and forward line.
The former AFL-listed recruit concedes that good things take time and that recent results have proven to be a learning curve for North's young side.
"We haven't played a lot of footy together. Hopefully we can start to bring it all in," Close told North Media.
"When you're a young team, it's hard to find that consistency with your performances. There's been games where we've managed to find ways to get over the line, we're still learning.
"Hopefully as we get more experience at this level, we can put a more consistent from a four-quarter point of view.
"They're only little things that we need to improve, but in a game of footy these things turn out to be very big things.
"We've just got to stick together and keep working hard."
Fans are invited to attend Saturday's VFL match against Port Melbourne at North Port Oval with the first bounce at 2.00pm.