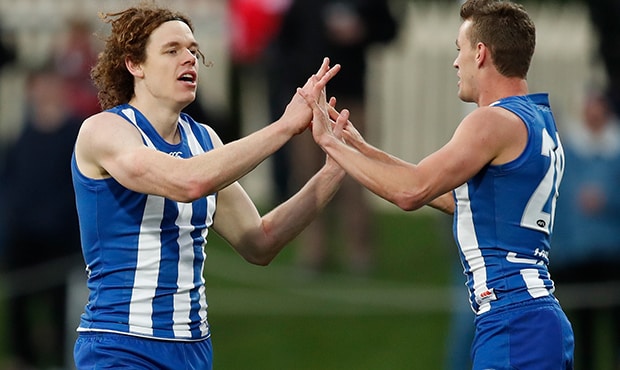 A "unique" Ben Brown reaped the rewards after North Melbourne's midfield was challenged by coach Brad Scott at half time in Saturday's win over Greater Western Sydney.
Scott put the spotlight on his side's clearance work before they responded to deliver Brown five goals straight in a blistering third quarter.
His local knowledge proved invaluable, the Tasmanian unable to miss after registering just three disposals to the main break.
"I hadn't really got near it in the first half, it didn't mean too much because (Jarrad) Waitey bobbed up and kicked four goals," Brown told AFL.com.au.
"Scotty put it on the midfielders a little bit at half time after that second quarter and to their absolute credit they stood up.
"It's just as much about judging the wind and trusting your routine. Thankfully for me it worked and down that (southern) end of the ground you've got a nice wind tunnel blowing through the goals."
Brown took his season tally to 31 majors to hold an eight-goal lead over Hawthorn's Luke Breust before the Hawks face Brisbane on Sunday.
"That's Ben Brown, I don't think there's ways that you can keep him from influencing a game for long," Scott said post-match.
"He just needed to look at his positioning and we also needed to look at our delivery.
"Browny's just such a unique player, I don't think he's going to be kept out of games for too long."
Brown missed two clutch shots late in the Roos' loss to Richmond last week before hitting the track hard this week in order to bounce back.
"The pressure didn't get to him, he just missed," Scott said of last week's match.
"You can see when pressure gets to players when they don't follow their routine (and) things change.
"Jack (Ziebell) and Ben did a hell of a lot of work during the week. We're big believers in getting repetition in such a closed skill that is goalkicking."
As the Giants piled on four consecutive goals in the second term, Scott resisted the temptation to push Ziebell into the midfield.
The skipper played as a permanent forward, Scott highlighting the club's new-found midfield depth with Jed Anderson, Billy Hartung, Ben Jacobs and Trent Dumont enjoying career-best seasons.
"That's the flexibility we've got now, to be able to make those choices," Scott said.
"That was one thing we talked about, (but) didn't end up doing it.
"He's really effective forward, we like him there, we like the competitiveness of our forward line when he's there. At a moment's hesitation we can bring him into the midfield."
The win at Blundstone Arena took the Roos' record at the ground to 11-2 since round six, 2014.