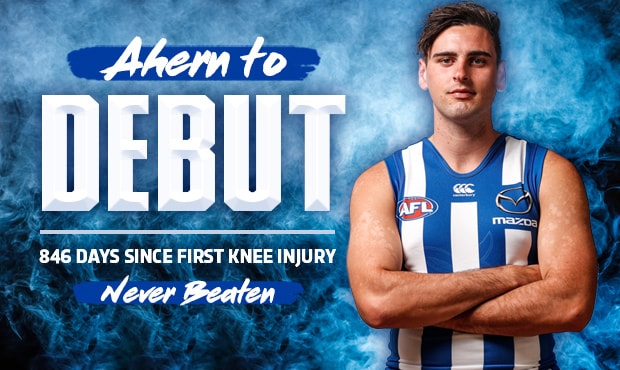 It's been 2 years, 3 months and 26 days, or 27 months and 26 days, or 120 weeks and 6 days, or 846 days since Paul Ahern first injured his knee on February 8, 2016.
The recently drafted Giant went down during a pre-season training session and required a full reconstruction. Just seven months later, the number 7 pick did it again and required a second reconstruction.
Later that year, he was traded to North Melbourne, knowing he'd sit out the entire 2017 season.
The now 21-year-old has been finally named to make his long-awaited AFL debut having spent countless hours in the gym doing slow, painstaking rehabilitation exercises.
The midfielder never lost faith, and maintained belief that this day would come.
"I never really doubted myself that I would get there," Ahern told North Media.
"Obviously there were some times there when it was really frustrating and a bit depressing, but once I got to work, started working hard and began training with the main group, that's when it kind of looked as though it was going to happen."
After almost two months of consistent, high-quality football in the VFL, Ahern couldn't have been happier to receive the news he'd be playing on Sunday.
"I was just sitting down with Bulldog [Jarrad Moore] and we were just going through a bit of vision from my game last week," he said.
"I got called up to Scotty's (Brad Scott) office before that, but I think he was talking to someone else, so I just started doing a bit of vision.
"He got out of the meeting and then he came and sat down and watched a few clips.
"He didn't really say anything for the first couple of edits, but then I think I used the ball well with a good kick and he said 'that's why we're going to bring you in this week, for your ball use', and I couldn't believe it."
Ahern will become Shinboner number 1009 when he runs out onto Etihad Stadium against the Lions.
"It feels unreal. Obviously, it's been a long time coming, but to play in indigenous round as well makes it that bit more special," he added.
"My family and friends are all really proud, so it's going to be really enjoyable."